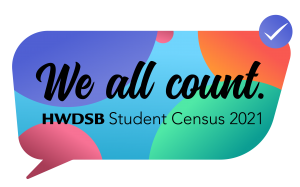 At Hamilton-Wentworth District School Board (HWDSB), we are committed to identifying and removing barriers so we can offer all students supportive, inclusive, and respectful learning environments.
To learn more about our students, we conducted a confidential census in April 2021. We All Count: HWDSB Student Census 2021 gathered identity-based student data so that we can identify and address systemic barriers by focusing our programming and resources. The student census will be reintroduced in 2021-22, due to the challenges of conducting it during the remote learning period.
Many school boards have conducted a student census. In fact, the Anti-Racism Act, 2017 and Ontario's Education Equity Action Plan require school boards to gather and report this data. It is also a priority project in HWDSB's Equity Action Plan.
We know that asking about a person's identity can be uncomfortable, and we will do so with sensitivity. We consulted students, families, staff, and community members so that this census helps HWDSB make evidence-informed decisions to support equity, student achievement and well-being.
If you have question not answered below, please email census@hwdsb.on.ca.
Updated on Monday, July 18, 2022.