Welcome
An engaged community that is committed to the removal of financial barriers to learning for HWDSB students.
The Hamilton Foundation for Student Success (HFSS) is a registered non-profit charity that raises funds in the private and business communities to help students in need and support schools with funding opportunities to enhance current programming or create new and innovative opportunities for student learning.
We make tomorrow better. You can too.
---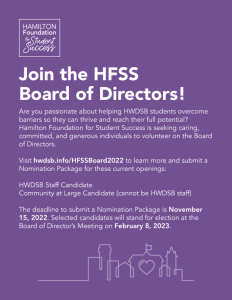 Hamilton Foundation for Student Success raises funds to help students facing extraordinary or emergency financial obstacles during their education journeys, enhance extra-curricular programming within HWDSB schools, and secure scholarship and student awards.
We are currently seeking one (1) HWDSB staff candidate AND one (1) community-at-large candidate to serve as Directors on the Board of Directors. The community-at-large candidate cannot be an employee of HWDSB.
Application Process
All individuals interested in being considered for a volunteer Director position on the Hamilton Foundation for Student Success Board of Directors are required to submit a completed Nomination Package.  All Nomination Packages will be reviewed by the Governance Committee (a committee of the Board of Directors). Viable candidates may be asked to participate in an interview with a member/members of the Governance Committee.
Selected candidates will stand for election at the Foundation's Board of Director's Meeting on February 8, 2023. All candidates, regardless of outcome, will be notified by email.
Deadline for submission of Nomination Package is November 15, 2022 at 4 p.m.
Click here to learn more and submit a Nomination package.
---