The HWDSB Educational Archives and Heritage Centre is an entity within the HWDSB that acts as a resource and museum for school memorabilia, artifacts, photographs, documents and other items for Hamilton and Wentworth County schools dating back to the mid 1800s. It is one of the largest repositories of its kind within Canada, and a testament to the dedication of staff, students and members of the public to preserve the heritage of education in Hamilton and surrounding areas.
A Brief History
The Hamilton Board of Education established the Archives in 1988 as a place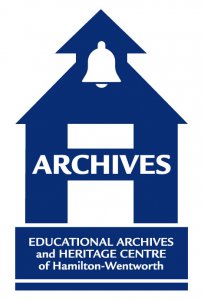 to house and preserve their growing collection of vintage minute books, documents, student records and other significant historic artifacts . When the Hamilton and Wentworth County school boards amalgamated in 1998 to form HWDSB, the Archives grew to include the records and memorabilia of almost 350 former and current WCBE schools.
In the 1990s and into the 21st century, the Archives developed a more formal structure and established itself in more spacious and permanent facilities, starting with the former Ainslie Wood Vocational School, followed by a nearly 20-year period in the former Vincent Massey Elementary School on Macassa Avenue. Today, the Archives are located in the Hill Park Learning Centre, in a newly renovated facility designed with long-term preservation in mind. Day to day operations are handled by manager Hal Hillgren and a diligent volunteer group of over 20 members.
Services
Here are just a few of the services we can offer to schools, organizations and individuals:
Research Requests: Members of the public wishing to gain information into a family member, ancestor or their own records can contact us with Research requests. For further information, please see our Research page. 
Collecting Memorabilia: Since the formal conception of the Archives in 1988, a large percentage of our time is spent collecting and retrieving memorabilia and other artifacts from both active and inactive schools for acceptance into our collection. When a school is deemed surplus or otherwise set for closure, proper planning is undertaken by the Archives to meet with staff and visit, to ensure the retrieval and storage of historically significant items that may otherwise be lost or destroyed.

School Reunion Assistance:

 Schools within the HWDSB are invited to contact us for assistance when planning for upcoming reunions and anniversaries. In doing so we are generally able to provide historical information on opening dates, former staff lists, general school history and the temporary loan of artifacts and memorabilia in our collection for display at the event.

Outside Assistance:

Over the years we have established working relationships with many outside organizations, such as the Ontario Genealogical Society, the Hamilton Mountain Heritage Society, and the Special Collections department of the Hamilton Public Library. Groups such as these are more than welcome to contact us with any research or information questions that may be relevant to our holdings.

 

Accepting donations: 

Despite first impressions, many of our most valued artifacts and memorabilia has come from personal donations, whether from former staff members or students of various schools. Despite our best efforts, not everything makes it through the years

. If you have items from your school past which might be appropriate for our collection, please visit our Contact page. 
Further Links
If you're in need of further information regarding historical information for Hamilton and the surrounding regions, be sure to visit the following links:
Be sure to check out our YouTube channel, as we feature videos and films from our media collection dating back over 60 years, such as the Royal Visit to Hamilton in June of 1939:
Updated on Thursday, March 21, 2019.