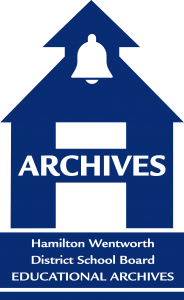 The HWDSB Educational Archives acts as a resource and museum for school memorabilia, artifacts, photographs, documents and other items for Hamilton and Wentworth County schools dating back to the mid 1800s. It is one of the largest repositories of its kind within Canada, and a testament to the dedication of staff, students and members of the public to preserve the history of education in Hamilton and surrounding areas.
Please visit our pages to learn about:
Contact Us
Address: 465 East 16th Street (Hill Park Learning Centre), Hamilton, ON L9A 4K6 – Directions
Phone: 905.527.5092 ext. 4585 | Email: archives@hwdsb.on.ca
Manager: Hal Hillgren
Find us on YouTube and Instagram @hwdsbedarchives
Hours: At present, the Archives is closed to all visitors. Staff hours are varied, and while emails and phone calls are still being monitored, certain delays may occur when responding to research requests and other general inquiries. We apologize for any inconveniences.
NOTE: THE ARCHIVES DEPARTMENT IS NOT RESPONSIBLE FOR STUDENT TRANSCRIPTS. PLEASE CONTACT THE STUDENT RECORD DEPARTMENT FOR ASSISTANCE: CLICK HERE FOR STUDENT RECORDS
---
Updated on Thursday, March 31, 2022.