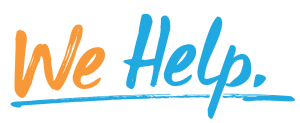 Mental health affects us all – and has real impacts on our lives. At HWDSB, we are committed to supporting the mental health and well-being of all students and staff. We embrace Public Health Canada's definition of positive mental health as:
"the capacity of each and all of us to feel, think, and act in ways that enhance our ability to enjoy life and deal with the challenges we face. It is a positive sense of emotional and social well-being that respects the importance of culture, equity, social justice, interconnections and personal dignity."
What's New:
---
COAST Hamilton
Mental health crisis outreach and support for all ages.
Crisis Line (905) 972-8338; coasthamilton.ca
Kids Help Phone
24/7 counselling and information service for young people.
Crisis Line 1-800-668-6868; kidshelpphone.ca
McMaster Children's Hospital: Child and Youth Mental Health Emergency Services (CHYMES)
McMaster Located within the emergency department for youth age 17 and younger.
1200 Main St W, Hamilton, ON L8N 3Z5
Sexual Assault Centre of Hamilton (SACHA) – Crisis Line (905) 525-4162 sacha.ca (for 16+ only)
Call 911
General Mental Health
Abuse & Violence
Anxiety, Low Mood & Depression
Black Communities
Drop-in Counselling
Emotional Regulation
Executive Functioning
Free online programs
Housing
Indigenous People
Muslim Communities
Newcomers, Immigrants and Refugees
People with Specialized Needs
Sexual Health
Substance Misuse
Two Spirit and LGBTQiA+ Communities
Didn't find what you were looking for?
HWDSB School-Based Supports
Social Work Services provides individual mental health and well-being supports for children and youth in the following areas:

Mental health, such as anxiety or low mood,
School avoidance and non-attendance, personal or social stressors (i.e. adverse childhood experiences, peer relationship, stress substance use,)
Family stressors that impact the student's functioning at school
Experiencing systemic oppression and discrimination (racism, poverty, colonialization, homophobia/biphobia/transphobia, poverty etc.)
Crisis, such as imminent risk of harm to self or others.
Individual Support can include consultation, assessment, intervention and support in accessing community services; and may include a child or youth's circle of care, such as caregivers, teachers, and community service providers and identified caring adults. All services are provided by professional social workers registered with the Ontario College of Social Workers and Social Service Workers, and are available in all schools.  Services may be provided in person and/or virtually, via MS Teams.
To access Social Work Services please contact the Principal/Vice-Principal of your school or (905) 527-5092 ext. 2806.
HWDSB Groups
Social and Support Groups for Transgender, Non-binary, Gender Non-conforming and Gendering Questioning Children and Youth
Transcend Youth Group: Transcend is a social and support group for transgender, non-binary, gender non-conforming and gender questioning children and youth from HWDSB schools. Group meetings are held once/month for two hours and are facilitated by peer leaders with lived experience. Transcend meetings are a welcoming environment which allows youth to develop social connections with others who share some aspect of their identity, so that they can help and support and learn from each other and from the facilitators.
 Child/Youth Treatment Groups offered by Social Work Services and Psychological Services
AFFIRM: Is an 8 session Cognitive Based Therapy informed treatment group specifically for Two Spirit and LGBTQIA+ youth to develop coping skills for anxiety and stress related to experiences of discrimination related to their sexual and gender identities. The goals of AFFIRM are to decrease unhelpful thoughts, feel better about yourself and lives and to make healthy choices for sexual and mental health.
TRAILS Anxiety and Depression: TRAILS (Transforming Research into Action to Improve the Lives of Students) groups are designed to help our children and youth (Grades 6-12) who struggle with moderate symptoms of stress, anxiety, and/or depression by teaching evidence-based cognitive behavioral therapy (CBT) and mindfulness skills. TRAILS A+D aims to help children and youth develop effective coping skills and strategies to help manage their emotions and choose helpful behaviours. This is a 10-week program that may be offered virtually and/or in person, as public health guidelines allow.  Children and youth who might benefit from the group are primarily having difficulty with both anxiety and depressive symptoms/low mood that is impairing their functioning. Children and youth interested in participating should have some awareness of their struggles and would be motivated to improve their coping skills. Parent sessions are also available as part of the program, so that parents have a better understanding of their child's mood and anxiety difficulties and effective strategies to continue to improve overall wellbeing.  This is a closed group and we are currently accepting applications.

To access Social Work Services, please contact the Principal/Vice-Principal of your school or (905) 527-5092 ext. 2806.
Teen Activation Group (TAG): TAG is a treatment group for youth (Grade 9-12) struggling with depression and anxiety who are not ready to access other treatment options at this time. The group is based on Cognitive Behaviour Therapy (CBT) and Behaviour Activation Therapy. The goal of the group is to help child and youth to reduce their depressive and anxious symptoms and increase their overall activity level, so they can access other treatment options or so they no longer require treatment.  The group engages in education sessions, as well as, social and physical activities.  This is an open group and referrals are accepting on an ongoing basis.
To access Social Work Services, please contact the Principal/Vice-Principal of your school or (905) 527-5092 ext. 2806.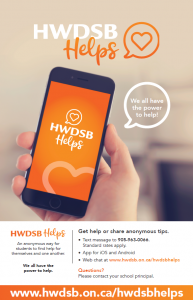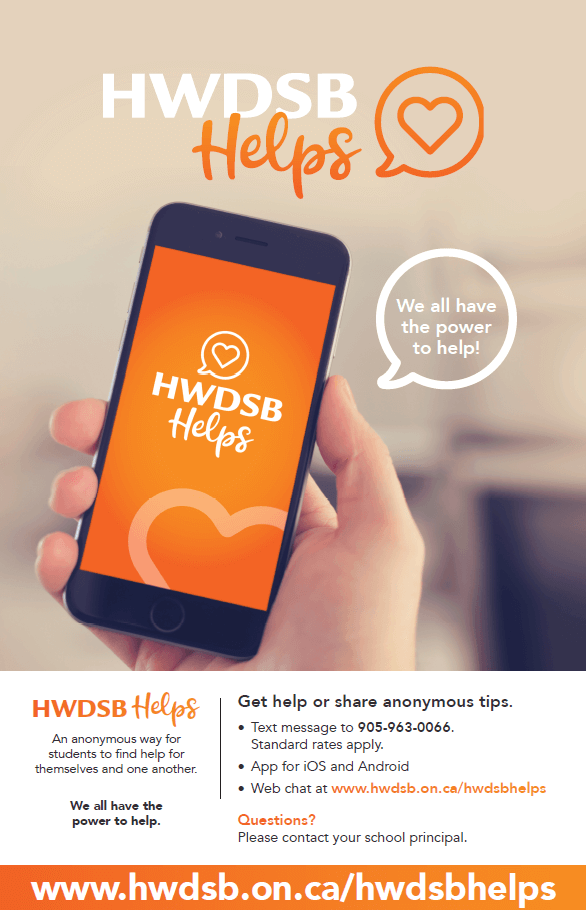 HWDSB Helps is a free and anonymous way for students to find help for themselves and one another. Tips may relate to student mental health, bullying, substance use and more. When students, staff and families help promote a positive school environment, schools are safer and more welcoming places. The service receives anonymous messages and shares the report with staff who follow existing Board and school protocols. This is not a crisis line or counselling service.
HWDSB Helps priority during COVID-19: HWDSB Helps remains an operational service. However, we are prioritizing concerns related to COVID-19's impacts on school communities during our closure under Ministerial Order. If a concern relates to school matters generally, we will respond when school is back in session. Thank you for your understanding.
Get help or share anonymous tips using…
Text to 905-963-0066. Standard rates apply.

The HWDSB Helps app for iOS and Android.

In case of emergency, call 911.
If you have questions, please contact your school's principal.
As a caring community, we are all shocked and saddened after a tragic event. These rare events can impact each of us differently. We may feel sadness, grief, helplessness, anxiety and anger. Whatever we feel is okay. When supporting a child or youth, please consider the following points.
Take care of your own feelings and needs
Adults have fears and worries too. It's important that our feelings do not interfere with listening to children and youth, who must feel that adults are listening, are calm and are in control.
Take time to deal with your own reactions before speaking to a child or youth. If you are coping well, you can better offer children and youth your support.
If you are struggling, ask for help. Have someone else support children and youth while you care for yourself.
School boards can offer specialized support such as social workers and psychologists. Ask your school principal if you wish to speak with someone.
Help children and youth feel safe
Be calm, offer reassurance and explain how children and youth are in a safe place.
Limit media consumption, especially in elementary schools. Children struggle to distinguish between TV and reality. Limiting media exposure for older children can keep them from focusing too much on the crisis.
Discuss conflict resolution ideas and non-violent ways of solving problems.
Acknowledge & normalize feelings
People vary in their emotional responses. Feelings after traumatic events may include fear, loss of control, anger, loss of stability, isolation and confusion.
Accept these feelings. Allow children and youth to express their feelings. Emphasize that people are entitled to their own feelings and opinions unless it hurts someone else.
Let them know that their feelings are normal, expected and shared by many others.
Recognize feelings behind actions and put them into words. For example, "I can see you are feeling scared about this."
Encourage children and youth to talk to you or another caring adult. Emphasize that you are there to help, and that they tell an adult if they feel, or a friend feels, overwhelmed.
Respect diverse responses. Some teens prefer to talk to adults – like parents or teachers – while others prefer to talk to friends.
Some people respond to stress with humour, some of which may be inappropriate or insensitive. This type of humour should not be encouraged or condoned. However, if this does occur, help the child or youth understand why the humour was inappropriate.
Be a good listener and observer
When children or youth ask questions, listen carefully and respond as appropriately and objectively as possible.
Let them guide you regarding their level of concern or desire for information.
When answering questions, stick to the facts. Don't speculate about what could happen. If you don't know the answer, don't be afraid to say so.
Discuss events in terms that are appropriate to a child's age and level of development.
You may need to continue discussions. Acknowledge new information as it is available.
Respond to changes in behaviour
Children and youth may respond differently to traumatic events, with forms that may include:
Preoccupation with violence (e.g. pretending to blow things up)
Difficulty concentrating
Aggressive behaviour
Physical complaints (e.g. stomach aches and headaches)
Increase in or loss of appetite
Anxiety, sadness, withdrawal
Sensitivity to loud noises
Mood changes
Sleep disturbances
Identify children and youth who may be at risk
Most children and youth will be able to cope with their concerns about current events, with help from parents, teachers and other caring adults. Some children may be at risk of more extreme reactions due to personal circumstances. The most vulnerable children are those who:
Can directly relate to the tragic event.
Have friends or relatives in the affected areas.
Have experienced a recent death in the family.
Have a history of depression, anxiety disorders or other trauma.
Have recently come from a country where they experienced armed conflict.
Keep communication open between home and school
Be sure to reach out from home to school, and from school to home so that all adults know if a child is experiencing stress at school. Schools have resources that can help.
If you have concerns about your child or youth, help is available.
Staff well-being is important to us at HWDSB. You can visit our intranet Staff Wellness page to discover resources and services available to support you in your wellness journey. We are continuously striving to meet the needs of our diverse community here at HWDSB and aim to build a program that will actively eliminate barriers, foster and maintain a culture of human rights, and hold space for every identity that we serve.
All staff (including casual and non-union) as well as their dependents have access to free and confidential services through Homewood Health, our Employee and Family Assistance Provider (EFAP). You can access Homewood by calling the 24-hour toll-free access number at 1-800-663-1142 or online by visiting homeweb.ca. 
If you have any questions or need support in accessing Homewood Health resources, or if you have any suggestions on how Staff Wellness can further assist you, please don't hesitate to get in touch with staffwellness@hwdsb.on.ca
Updated on Monday, June 05, 2023.