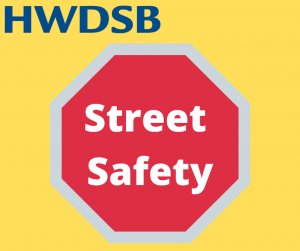 When it comes to street safety, we all have to do our part. Whether you are a walker, cyclist or driver, there are fundamental rules and tips to follow that help keep students safe.
Walking and Cycling Safety
Walking and cycling to and from school is a great way to help children get daily physical activity. Help your children become road ready.
Teach them to be aware of their surroundings and to follow these rules:
Be safe. Children under the age of 10 should walk or cycle with an older student or adult.
Walk on the sidewalk wherever possible.
A bike is the same as a car and must follow the rules of the road.
Obey all traffic signs.
Cross at marked crosswalks or traffic lights.
Cross at the start of a green light. Do not cross if you can see the "Don't Walk" signal or if the light has turned yellow.
Never cross on a red light.
Look at the driver and make eye contact.
Cross after cars have completely stopped.
Watch for cars turning at intersection or in and out of driveways.
Avoid using a cell phone or listening to music – pay attention.
Driving to School? Keep our Kids Safe!
Parents and caregivers who drive to and from school play an important role in keeping our kids safe. Pedestrian and cyclist safety begins with drivers.
Follow these safe driving tips:
Slow down and obey all traffic laws and speed limits.
Watch for children walking or cycling both on the road and the sidewalk.
Obey the parking signs. Comply with school drop-off and pick-up procedures.
Avoid double parking or stopping on crosswalks. This blocks visibility for pedestrians and other motorists.
Be alert in bad weather. Snow, rain, and fog reduce visibility for both drivers and pedestrians.
Avoid stopping on the opposite side of the street. This forces children to cross busy streets, often mid-block rather than at a crosswalk.
Prepare to stop for a school bus when yellow lights are flashing.
Stop for a school bus when red overheard lights flashing, regardless of the direction from which the driver is approaching. Proceed only when the school bus begins to move and the red lights stop flashing.
Watch for children near bus stops. Be alert for children arriving late for the bus. They may dart into the street without looking.
Updated on Tuesday, September 14, 2021.