Land Acknowledgement
Hamilton-Wentworth District School Board acknowledges our presence on ancestral Anishinaabe and Haudenosaunee Confederacy land as determined by the Dish with One Spoon treaty.

The intent of this agreement is for all nations sharing this territory to do so responsibly, respectfully and sustainably in perpetuity.

We respect the longstanding relationships with the local Indigenous communities, the Mississaugas of the Credit First Nation and the Six Nations of the Grand River.
Contact us
Jolene John, Indigenous Education Lead, jjohn@hwdsb.on.ca
20 Education Court Hamilton L9A 0B9 (905) 527-5092 x2119
Our Work
At HWDSB, we are honoured to work with our community partners to meet the needs of Indigenous students. We strive to weave Indigenous perspectives into curriculum for all students, as well as support the achievement of First Nation, Métis and Inuit students.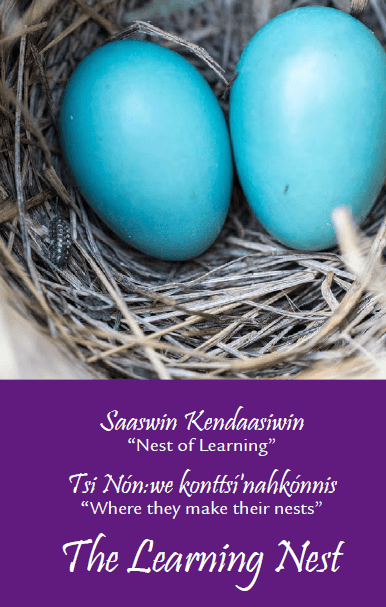 Saaswin Kendaasiwin "Nest of Learning"
Tsi Nón:we Konttsí'nahkónnis "Where they make their nests
Indigenous Cultural Safety
A culturally immersive learning pilot offered at Hamilton-Wentworth District School Board
Our goal
The Learning Nest is a culturally immersive Indigenous learning pilot offered to learners who self-identify as Indigenous, First Nations (status and non-status), Inuit and Métis (grades 9-12).
In the Learning Nest classroom, Indigenous ways of knowing, being and doing are respected, valued and prioritized. The Learning Nest is a key piece of the ongoing development of an Indigenous Cultural Safety framework. Indigenous learners will see Indigenous knowledge reflected in the space, content and learning experiences.
The Learning Nest experience includes:
A variety of credit-earning learning experiences, teachings, language and participation in cultural activities and observances
Working cooperatively with learners, families and caregivers to ensure holistic health and well-being by emphasizing an asset-based model of Indigenous student success
Holistic well-being plans and bridging to 'next steps' and/or life stage, respecting the unique needs and goals of the learner
How
Our team adheres to the following definition of Indigenous Cultural Safety:
Indigenous Cultural Safety is the develop­ment, implementation, maintenance and (ongoing) evaluation of education models that reflect the needs of the Indigenous community of Hamilton while being respectful of the 94 Truth and Reconcilia­tion Commission Calls to Action. This includes but is not limited to the teachings found within the Haudenosaunee teachings of the Great Law of Peace, which outlines three guiding principles:
Peace – healthy mind and healthy body
Power – harmonious, non-violent unity
Good mindedness – justice between people and justice between nations
These principles are followed with the understanding that all decisions are made in the best interest of the 'faces yet to come,' meaning we begin the decision-mak­ing process by considering the best interest of our most vulnerable, the unborn, then the babies, then the crawling ones, then the children and so on…
We also use the following as part of our guide, the Anishinaabe teachings of the Three Fires model of past, present and future generations, the Seven Grandfather Teachings: Bravery, Honesty, Humility, Love, Respect, Truth and Wisdom, and the prophecy of the current generation whom represent the 8th Fire.
We approach the establishment of the Learning Nest from the perspective of a Cultural Safety model: returning to the village-model of caring for our children, educating them, displacing deprivation of identity with rich cultural teachings, based on our Indigenous worldview.
Why now?
This is a time of Reconciliation. The Learning Nest pilot is rooted in the concepts of "Respect, Relevance, Reciprocity and Responsibility" (Kirkness and Barnhardt 2001) and aims to increase the experiences of safety and wellness, while providing a high standard of excellence for Indigenous learners in education.
We are committed to ensuring that each learner, their families and or caregivers have a solid understanding of the roles and responsibilities for all within this
unique and culturally immersive educational experience.
Indigenous Education Team
You are welcome to learn more about Indigenous Education and/or Indigenous Cultural Safety at HWDSB.
Learners, families/caregivers, staff and the community may contact us directly via email or by phone.
NOTE: If you are calling on behalf of a learner, please ensure you have secured consent of the learner and or parent/guardian.
Jolene John, Indigenous Education Lead jjohn@hwdsb.on.ca
Kristina Zito, Indigenous System Social Worker kzito@hwdsb.on.ca
20 Education Court Hamilton L9A 0B9 (905) 527-5092 x2119
thelearningnest@hwdsb.on.ca
CC:ROSE Project Blooms into Indigenous Student Community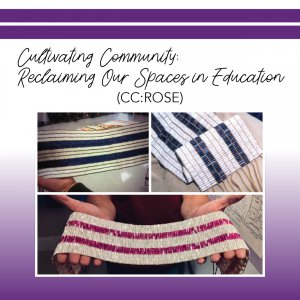 It began from a challenge: why couldn't there be supports for the entire HWDSB Indigenous student body, rather than programs at just some schools?
The student reps, on the Indigenous Education Circle (IEC), shared experiences of social isolation, discrimination, tokenism and made to be obliged to be a classroom spokespeople for all things Indigenous.
"In my experience I was never taught true things about being Indigenous," one student said. "I would like to learn more about Anishinaabe culture."
Some HWDSB schools have cultural or language programs where Indigenous learners affirm identity. But at other schools, students feel like they need to search outside of school to discover Indigenous knowledge, spirituality and a sense of belonging.
"The learners wanted to create an Indigenous student community," said Jolene John, Aboriginal Community Liaison at HWDSB. "When students do not have the resources for this at home, schools become very important places."
The challenge launched work to land a Student Success & Leadership Grant from the Ministry of Education's Indigenous Education & Well-Being Division. A strategy evolved as the effort took on its new name: Cultivating Community: Reclaiming Our Spaces in Education (CC:ROSE).
You could say CC:ROSE has been growing as an initiative for Indigenous learners, by Indigenous learners. In addition to student and community input, the Indigenous Education Team includes Jolene John (Aboriginal Liaison); Tehahenteh (Knowledge Holder); Kristina Zito (Social Worker); Lisa King (Consultant) and Superintendent of Equity and Well-being Sharon Stephanian.
Other aspects of CC:ROSE in 2018-19 included:
Student Panels/Workshops/Assemblies: Eight Indigenous learners gathered at school and board locations as well as the Hamilton-Regional Indian Centre to plan how to build an Indigenous student community across HWDSB.
Student Conferences: Students came up with a conference title, Cultivating Community: Reclaiming Our Spaces in Education (CC:ROSE). They felt they had to build community if they wanted a Board-wide Indigenous Student Council, safe spaces for Indigenous youth at each school and a new Indigenous Student Trustee position. The student-led conference helped recruit and engage students, while shaping what the Indigenous student community will look like.
Resources: Students identified the need to have "graffiti walls" or blank sheets with colourful markers and pens so they could draw, write and be creative with their learning. Incentives also included raffle items such as Indigenous apparel, cultural items, medicines and gifts; they are also using technology to record their learning.
Year-end Event: The HWDSB Indigenous community also looks forward to the student-organized annual year-end event. Students showcased their art and welcomed a keynote address by community scholar, lecturer and hypnotist Darren Thomas.
In hindsight, the project team reflected on where they have been:
"There are many positive lessons learned from the project," John said. "We know that the Indigenous learners across Hamilton are extremely diverse and have their own unique set of barriers, realities, and lived experiences."
Schools Receive Wampum Belts to Signify Indigenous Reconciliation
Principals representing all 102 schools at HWDSB received symbolic, beaded wampum belts Sept. 13, 2017, in a ceremony that highlighted the Board's commitment to improve relationships with Indigenous people, knowledges and practices.
The Dish with One Spoon Wampum Belt, to be displayed at each school, represents a treaty relationship between the Haudenosaunee Confederacy and Anishnaabe with respect to sharing the land and resources therein.
Schools and departments will use the wampum as a teaching and learning tool, agreeing to keep it visible, accessible and safe for all to use; they may work with Indigenous staff or community members to broaden understanding and use of the wampum.
"Thank you for continuing to push us and lead us," Director of Education Manny Figueiredo said at a meeting of principals. HWDSB accepted a wampum at the Board level in June, and has adopted a new community-vetted Land Acknowledgement that is said before meetings.
HWDSB's commitment to Indigenous education emerges from a context that has seen Indigenous knowledge historically excluded and marginalized in Canada. Ontario has committed to working with Indigenous partners in education, with a focus on closing the achievement gap between Indigenous and non-Indigenous students.
In HWDSB's new strategic directions, Positive Culture and Well-being is a top priority, so that student and staff well-being – and thereby achievement – is fostered through positive climate strategies and supportive relationships.
Director Figueiredo said that, on a personal level, it was his experience touring a former residential school with a survivor that opened his eyes to "how much I didn't know about colonization."
HWDSB's Equity Department supports the various Indigenous educational initiatives, including:
The Aboriginal Stay in School Initiative (NYA:WEH)
Funded through community grants, NYA:WEH features aboriginal youth workers working at Sir John A. Macdonald Secondary School to support Indigenous students.
Strengthening Hamilton's Aboriginal Education (SHAE)
SHAE is a partnership program between HWDSB and the Indian Friendship Centre in which Indigenous students can complete their secondary school diploma through Independent Learning Centre Courses. HWDSB teachers work out of classrooms at the Friendship Centre to support these students.
Native as a Second Language programming enhances our students' cultural awareness and improves their communication skills. When students develop the ability to communicate in a Native language, they are likely to experience increased proficiency in their first language. Learning a Native language will reinforce, not interfere with, the learning of English, French, or other languages.
The NSL program is not designed to make students fully bilingual; rather, the program offers students the opportunity to develop a functional command of a Native language, which can be expanded through further study or through contact with other speakers of the language.
NSL Program Objectives
The NSL program will provide students with learning opportunities that will enable them to:
Listen to and understand ideas and Indigenous language under study
Express their experiences, thoughts, and feelings orally with clarity and confidence
Read in the Indigenous language with growing proficiency
Write in the Indigenous language with growing proficiency
Acquire and develop learning skills pertinent to language study
Improve their use of language through study, practice, and communication
Become familiar with the traditions, customs, social structures, history, geography, and arts of the pertinent Indigenous language family, as well as those of other Indigenous communities in Canada and North America
Develop an appreciation of the value of Indigenous language and Indigenous identity
Link their classroom experiences with life in their community
Parents, caregivers/guardians of HWDSB students, or students age 18 or older are encouraged to voluntarily and confidentially self-identify their First Nation (Status and Non-Status), Métis, or Inuit ancestry. By self-identifying, you are helping HWDSB to determine programming and supports for First Nations, Métis, and Inuit student success and achievement.
To self-identify, please use the form below or contact your school for a paper copy. You have the right to withdraw your consent at any time by asking the school to remove this information.
Self-identifying helps HWDSB provide reliable information on rates of enrolment, literacy, numeracy, graduation rates and course completion. HWDSB is committed to delivering safe and inclusive programs and services that support achievement, engagement and equity by addressing the heritage, culture and perspectives of the First Nations, Métis and Inuit peoples.
For questions or more information, please contact:
Sharon Stephanian
Superintendent of Equity and Well-being, HWDSB
905-527-5092 ext. 2386
Documents
Updated on Friday, March 19, 2021.