Every summer since 2008, Hamilton-Wentworth District School Board has partnered with not-for-profit groups through the Focus on Youth program to support them in delivering summer programs that keep young people safe and active.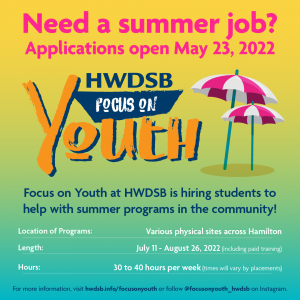 Programs and activities are focused on:
literacy and numeracy
sports and recreation
culture and the arts
leadership development and mentorship
programs targeted at meeting the needs of specific populations
Be sure to follow @focusonyouth_hwdsb on Instagram for updates.
See our recent blog post for Resume and Cover Letter Tips.
NOTE: We want to assure all applicants that we work closely with Public Health on protocols to ensure a safe environment. Our staff, including our prospective participants in the Focus on Youth program, are provided instruction on working safely based on guidance received from Public Health. Placements will primarily be in-person for the 2022 program, with some exceptions possible.
---
---
The application process for Focus on Youth 2022 student employment will open Monday, May 23, 2022.
If selected to participate in the program, student employment will begin Monday, July 11, 2022.
Qualifications:
Must be 16 to 21 years of age as of July 11, 2022
Must have been registered in an HWDSB program in 2021/22
Must have interests/talents in one of the following areas:

Sports
Arts / crafts
Community support and leadership
Music / drama / dance
Cultural activities
Technology
Mental Health activities

Must have an up-to-date resume
3 Professional/Teacher References – can be volunteer related
Social insurance number and a bank/chequing account
Will be required to pass a criminal record check if over the age of 18 (costs provided by the program)

Must be able to commit to working from:

July 11 – August 26 (weekdays, not including Canada Day and the Civic Holiday)

30 to 40 hours per week (varies by site)
If you have questions or concerns regarding an application, please contact us at focusonyouth@hwdsb.on.ca
Focus on Youth applications open Monday, May 23, 2022.
Please email your resume and cover letter to: focusonyouth@hwdsb.on.ca
Included in your cover letter, indicate how your previous employment/volunteer work/ leadership experience will benefit you in this summer employment opportunity. Also, include areas of employment that interest you: literacy/numeracy, sports/recreation, mentorship, health/nutrition, technology, the arts.
We ask that any applicants interested in both the Focus on Youth and Summer Co-op Program please indicate their Summer Co-op interest within the FOY submission email, along with all other required documents.
Deadline for Applications is Friday, June 10, 2022.
If selected, students will be interviewed between ­­­­Monday, June 20 and Friday, July 1, 2022.
---
Program Contacts
Amber Aquin
Engagement Officer
aaquin@hwdsb.on.ca
Shawn McKillop
Communications and Community Engagement Manager
smckillo@hwdsb.on.ca
Updated on Thursday, July 09, 2015.