Every summer since 2008, Hamilton-Wentworth District School Board has partnered with not-for-profit groups through the Focus on Youth program to support them in delivering summer programs that keep young people safe and active.
Programs and activities are focused on: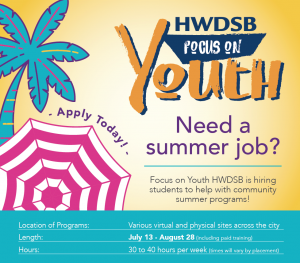 literacy and numeracy
sports and recreation
culture and the arts
leadership development and mentorship
programs targeted at meeting the needs of specific populations
NOTE: Due to COVID-19, Focus on Youth 2020 will take a different form from previous years. Many student placements will be done virtually to support various summer programming. There will be a heavy emphasis on health and safety training, as well as privacy training.
---
The application for Focus on Youth student employment will open on Monday, June 8, 2020. See our Focus on Youth flyer for full details: FOY-Poster-2020.
Qualifications:
Must be 16 to 21 years of age as of July 13, 2020
Must have been registered in an HWDSB program in 2019/20
Must have interests/talents in one of the following areas:

 Sports
Arts / crafts
Community support and leadership
Music / drama / dance
Cultural activities
Technology

Must have an up-to-date resume
3 Professional/Teacher References – can be volunteer related
Social insurance number and a bank/chequing account
Will be required to pass a criminal record check (costs provided by the program)
Please email your resume and cover letter to: focusonyouth@hwdsb.on.ca
Included in your cover letter, indicate how your previous employment/volunteer work/ leadership experience will benefit you in this summer employment opportunity. Also, include areas of employment that interest you: literacy/numeracy, sports/recreation, mentorship, health/nutrition, technology, the arts.
For more information, e-mail: focusonyouth@hwdsb.on.ca
If selected, students will be interviewed between June 24 to July 3.
Deadline for Applications is June 22, 2020.
---
Program Contacts
Amber Aquin
Engagement Officer
Shawn McKillop
Corporate Communications Manager
Updated on Thursday, July 09, 2015.