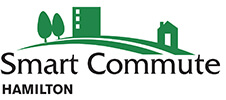 Like the City of Hamilton and Smart Commute Hamilton, HWDSB promotes active and sustainable school transportation. Active and Sustainable School Transportation (ASST) can increase physical activity, reduce traffic congestion, improve air quality, enhance neighbourhood safety and instill a greater sense of community. HWDSB has signed the Active and Sustainable School Transportation Charter.
What is School Travel Planning?
School Travel Planning encourages communities to work together so that children living within walking distance of school

can walk or ride their bikes. The STP process involves students, parents, teachers, principals, public health nurses and others as it examines challenges and develops active travel solutions that may include:
Walking school buses
Buddy systems
Route maps
Fun walking events
Park and walk locations
Cycling education
Traffic-calmed streets and crosswalks
School site safety measures
How can HWDSB communities get involved in ASST?
HWDSB encourages students, families, staff and community partners to work together on active school transportation planning. Here are some ways they can do so:
1. Develop a School Travel Plan (STP)
An STP is both a policy document and a process. The STP process helps identify barriers to active and sustainable transportation for each school, and it helps develop a school specific written action plan.
2. Participate in Walking and Cycling Event Days
Hamilton Wear Yellow Days (WYD)
Celebrate the many benefits of walking and cycling to school, and raise awareness about ASST.
International Walk to School Day – October
Winter Walk Day – February
Spring into Spring – April
Bike to School Day
Schools can participate by biking to and from their school, or by joining the mass ride to Hamilton's Gore Park each May.
3. Nominate your school for a Community In Motion (CIM) Award
This award recognizes efforts to actively promote and support walking, cycling, and public transit use.
Find more information on the Community in Motion Awards website.
Resources:
Updated on Thursday, November 17, 2016.