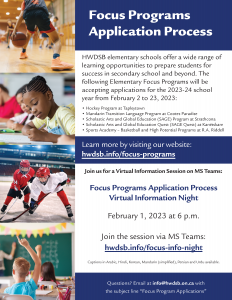 HWDSB elementary schools offer a wide range of learning opportunities to prepare students for success in high school and beyond. The Elementary Focus Programs listed below will be accepting applications for the 2023-24 school year starting February 2, 2023. Applications will close on February 23. Students currently learning in these programs do not need to reapply.
Click on the program names below for more information about these opportunities. You will also find details about the central, online application process under the descriptions.
Families interested in learning more about the Elementary Focus Programs are invited to join a Teams Live event on February 1. This event will consist of a short presentation followed by a moderated Q&A session. The event will be captioned in Arabic, Hindi, Korean, Mandarin (simplified), Persian, and Urdu.
Focus Program Application Process – Virtual Information Night
Wednesday, February 1, 2023 at 6 p.m.
MS Teams link to join the session: hwdsb.info/focus-info-night
PDF flyer: Focus Programs Application Process 2023-2024
Questions? Email at info@hwdsb.on.ca with the subject line "Focus Program Applications".
See below for more information about focus programs available to elementary students. For a full list of elementary programs, click here.
Hockey Academy
Mandarin Language Transition Program/中英文过渡项目
SAGE - Scholastics, Arts and Global Education
SAGE Quest
R.A. Riddell Sport Academy
Applicants will be placed into programs by:​
Review of all applications  

​

Random selection process creating a list for each school

​

Siblings placed if space is available prior to random selection

​

Current HWDSB students are offered places first, followed by out-of-board 

students

​

Schools will manage any waitlists by schools 
One system application point where families will be asked to:​
Provide basic personal information and their child's OEN

​

Select the program

​

Indicate if there is a sibling already in the program 

​

Answer two open response questions

​

Why are you interested in having your child in the program?

​

How can the school best support your child?

​

Site-specific questions

​

Acknowledge that families provide transportation

​

Provide information related to the program
Updated on Wednesday, January 25, 2023.