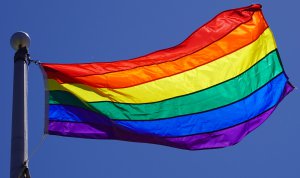 At HWDSB, we are committed to Positive Culture and Well-being. We want all staff and students to feel safe, supported and accepted. Sexual orientation and gender identity play an important role in well-being; they are often factors in harassment and discrimination in our schools and community.
Raising the Pride Flag each year is one way to demonstrate our commitment. The Pride, or rainbow, flag created in 1978 by Gilbert Baker has become an international symbol of diversity and strength. Each of the six colours on the flag have their own meaning: red for life, orange for healing, yellow for sunlight, green for nature, blue for serenity, and purple for spirit.
Although we were unable to hold an in-person ceremony as a result of COVID-19, we were able to raise the flag and share in this Pride Month 2020 video.
We can all foster well-being and achievement by learning more and confronting bias related to lesbian, gay, bisexual, transgender, queer, intersex and two-spirited members of our community.
Every member of the HWDSB family must feel safe, and be safe at work and at school. We know that discrimination exists. We also know this isn't right – equity and inclusion must be the reality for everyone, including LGBTQI2S+ staff and students.
This is why HWDSB works with community partners for a more inclusive city; why we recognize important events like today; and why we promote activities and events by Positive Space groups in our schools.
Thank you for helping all students, staff and community members know that they are welcome at HWDSB.
---
Supports at HWDSB
As a community of diversity, we believe it is critical to acknowledge, celebrate and support Pride Month. It is important for our students and staff to see themselves reflected and honoured in their school and community. Our current approach to recognizing and celebrating members of the LGBTQI2S+ community includes:
Pride Month Supports
Starting in 2021, All HWDSB to Fly Pride Flag in June
Board Positive Space Committee designed shirts for this year, which read "My HWDSB includes LGBTQI2S+ students and staff"
HWDSB Transition Support shared with staff, supporting students and staff who are transitioning
Flag raising at the Education Centre, with student, staff and Trustee participation
Director's Message to all staff
HWDSB Twitter Logo changed to reflect Pride colours
Positive Culture Consultant support of individual school initiatives
Social media sharing of secondary school events, knowing that June is a busy month with exams and quiet time
Hamilton Police Pride Event in which HWDSB Positive Space Groups participated
Other Supports
International Day Against Homophobia, Biphobia and Transphobia
Rainbow Prom, open to all HWDSB schools
Day of Difference, a leadership conference open to all schools hosted by Sir Winston Churchill Secondary School with workshops and speakers
International Day of Pink: Elementary and secondary resources shared with schools to support addressing homophobic and transphobic bullying as an important issue in creating safe and inclusive environments.
Transgender Day of Remembrance
Board Positive Space Committee meets throughout the year to help the system support schools
School-based Positive Space groups meet, lead and participate in school events throughout the year.
Director's messages to the system highlighting the meaning and importance of days of significance
Resources shared with the system to further educate and support schools, departments and classrooms
Updated on Tuesday, June 28, 2022.