Pathways & Programs at all schools…
HWDSB delivers its secondary school programs using four key principles: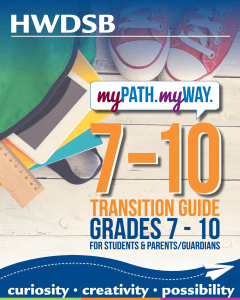 All secondary schools are great schools
Students will have choice within their home schools
Expanded access for students for specialized programs
All students achieving and graduating in HWDSB
We provide choice through a variety of courses, programs and pathways for students at their home school, as well as a number of Specialized (Tier 3) and Specialist High Skills Major (SHSM) programs in each school. Plans and destinations may change as you develop as a person, but planning your path – your way – will help you be successful. The five pathways we refer to are: Apprenticeship, College, Community, University and Work. Learn more about secondary school education at HWDSB in our 7 to 10 Transition Guide and Secondary Course Calendar.
Programs at some schools
Based on student interest, schools offer specialized programs in a variety of areas. Please contact your school guidance counsellor to learn more about these options.
Programs at few schools
Some programs will be of interest to few students at a limited number of school sites. These programs require specialized facilities, equipment or funding. We offer interested students transportation to these programs if they live out of the school catchment. Specialized Tier 3 programs (including SHSMs) open to students beyond the school catchment based on their geographical location. Each specialized program will have a program boundary beyond the school boundary.
We have three categories of Specialized Tier 3 programs: Specialized Non-SHSM Programs, Specialist High Skills Major (SHSM) Programs, and Intervention and Support Programs. Ask your guidance counsellor for more specific details and locations of these programs.
ArtSMART
ArtSMART engages HWDSB students in the production of a full-scale musical, in partnership with Theatre Ancaster. Young actors in the program will be able to sing, dance, create, and act while earning four credits towards their diploma, including two co-op credits.
Students will be enrolled in specialized courses in theatrical production and musical theatre. Classes are enriched by partnerships and workshops by local artists. Opportunities are also available for students interested in set, prop, and costume design, lighting and technical support, as well as backstage roles. To be eligible, applicants will be:
15 years of age or older;
will have successfully completed at least eight credits;
will submit all required application information by the due date; and
will attend an online audition.
The program is located at Sir Allan MacNab Secondary School. Students from other HWDSB schools will attend Sir Allan MacNab for their second semester.
Audition Information
Auditions for ArtSMART will be held at Sir Allan MacNab Secondary School on June 5 and 6 between 3:30 and 7 p.m. Please email rgenier@hwdsb.on.ca to set up an audition time.
How to Apply
Note: For the teacher reference, students may email or phone their specific teacher in order to obtain the information from them. Their response can be added to your submission or they may email in their own time.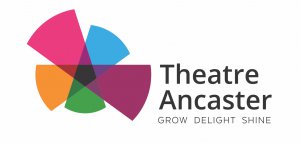 Audition-based Program of the Arts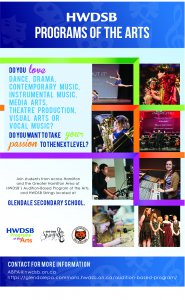 This program trains students in all aspects of the arts including Foundations of Theory and Technique, Individual and Collaborative Creation and Performance, and Critical Analysis. Students major in one of eight disciplines: Dance, Drama (Performance and Production); Music (Band, Contemporary, Strings, Vocal); or Visual and Media Arts. In addition to required credits, students have experiential learning opportunities such as career exploration, professional certification, discipline-specific training, opportunities beyond the classroom and seasonal collaborations on large-scale stage productions, small-scale studio productions and informal studio productions that invite broader school participation.  Graduating students receive a Certificate of Recognition in the Arts and Additional Qualifications such as industry training, professional resume and head shot, and professional portfolio.  Located at Glendale Secondary School.
Key Date:
Virtual Information Night – Wednesday, November 18, 2020, at 6:30 p.m.
Applications Due: Friday, December 18, 2020
Auditions/ Portfolio Review: January 28 & 29, 2021
Acceptance Letters: February 5, 2021
Notification of Acceptance: February 12, 2021
Apply:
Audition/Portfolio Requirements:
Contact for more information:
HWDSB Audition-Based Program of the Arts
145 Rainbow Drive, Hamilton ON, L8K 4G1
905-560-7343 ABPA@hwdsb.on.ca
Construction - Building Careers from the Ground Up
The "Building Careers " program is intended to provide career preparation for students with an interest in Residential Building Construction careers.  Students will have the opportunity to work with a Construction Technology teacher building homes with Habitat For Humanity.
Students will also complete Co-operative Education placements with building trades doing work at various building sites in the region. Placements could include electrical, plumbing, framing, bricklaying, general contracting etc.
This program is available in both semesters, and requires students to commit for the entire day, all semester.
Note: Pre-placement course work occurs at Hill Park Learning Centre.
How to Apply
Application Deadline:
May 1 for the following school year
Cosmetology
Students gain hands-on experience in hairstyling techniques and aesthetics that meet industry standards, using industry standard materials and equipment.
Offered at Waterdown and (after opening of New North and New Nora Henderson secondary schools) at Sir Winston Churchill and new Nora Henderson.
English as a Second Language
HWDSB's Secondary School ESL Program teaches children in grades 9 to 12 to communicate in English effectively. A strong command of the English language will help make your child successful in Canadian society. Secondary aged English Language Learners (ELLs) work to complete 30 credits needed for graduation and can substitute up to three ESL or ELD credits for compulsory English credits.
The goals of HWDSB's ESL/ELD programs are to:
Assist the Newcomer with English language acquisition;
Provide orientation to Canadian society and culture;
Develop basic interpersonal communication skills in English;
Enable students to graduate from Secondary skills with the academic language and skills needed to be successful in Canadian post-secondary institutions and workplaces.
Learn more about our English as a Second Language program.
French Immersion
HWDSB offers French Immersion to help secondary school students achieve educational goals set forth by the Board and the Ontario Ministry of Education, while also developing French abilities to:
Communicate easily with French-speaking people
Understand and appreciate Canada's Francophone and Anglophone heritage
Continue their educational development in French or English
Accept employment that requires French or English or a combination of the two languages
HWDSB awards a Certificate of French Immersion attached to the student transcript to show a student's involvement in French Immersion at the secondary level. Students earn the certificate by successfully completing four secondary courses in French Immersion and at least six courses in other subjects taught in French. Located at Sherwood and Westdale secondary schools.
Learn more about French Immersion.
Healthcare Support Services Program
The Healthcare Support Services Program is intended to provide preparation for students with an interest in pursuing health related careers. The program design enables students to gain the necessary knowledge, skills and behaviours they will need to participate in related cooperative education experiences in a Hamilton Health Sciences hospital (5 sites) or West Lincoln Memorial Hospital in Grimsby, under the guidance and supervision of a Hamilton-Wentworth District School Board teacher and Hamilton Health Sciences staff.
To be eligible for this unique Grade 12 program, students must:
have successfully completed a minimum of 20 credits (less than 20, consideration will be given on a per case basis)
have completed a Grade 11 science course
submit all required application information by the due date
attend an interview session
Download and complete the following Healthcare Support Services Program Application.
International Baccalaureate
This is a Grade 11/12 university preparation program recognized in over 140 countries, including universities in Ontario and Canada. Students concurrently study up to six challenging subjects that instill a global perspective with cross-cultural understanding. IB students learn through inquiry, and gain a sense of social responsibility, independence and critical-thinking skills vital to university studies. IB students can apply for university credit, based on their results in IB examinations. IB graduates gain both the Ontario Secondary School Diploma and an IB Diploma. Located at Ancaster High School and Westdale Secondary School. Learn more by visiting IBO.org
You can find the catchment areas for HWDSB IB schools online. If you have questions, please contact your home IB school's co-ordinator:
Work In Progress Program (WIPP)
WIPP (formerly OPS) is hosted at Hill Park Learning Centre but welcomes students from anywhere within Hamilton-Wentworth District School Board. Students remain registered at their home school, and are cross-enrolled to WIPP courses at Glendale.
WIPP is an experiential learning program with a goal of preparing students for, and connecting students with, employment opportunities (such opportunities may be paid, but this is not guaranteed). Learning opportunities are delivered through a combination of in-class and remote lessons, and independent experiences in the community.
There are a maximum of twenty (20) positions available each semester. Students must be 16-20 years old and there is no credit minimum to apply. Please review the WIPP Overview 2021-22 for detailed information.
**NEW FOR 2021/22 – BUSINESS SHSM DESIGNATION**
How to Apply
Download and complete the attached WIPP Application 2021-22.
Have a teacher complete the School Reference form attached to the application.
Submit the completed application along with a current résumé  and cover letter to a Co-op Teacher or your Guidance Counselor at your school by the required deadline.
Application Deadlines:
Semester 1 – May 1st
Semester 2 – December 1st
Strings
Students in the Strings program study the performance, creation and analysis of classical music into the 21st century. With beginner and advanced courses, the program builds on strings instruction at HWDSB elementary schools or in the community. It is offered in partnership with the Instrumental Music Program, which includes offerings in vocal, instrumental, guitar, keyboard and the performing arts. This can lead to a Specialist High Skills Major (SHSM) designation in Arts and Culture. As a Tier 3 HWDSB program, students from any HWDSB secondary school can attend. Located at Glendale Secondary School.
A Specialist High Skills Major (SHSM) is a ministry-approved specialized program that allows students to focus their learning on a specific economic sector while meeting the requirements to graduate from secondary school. Through specialized programming, students are given the opportunity to 'reach ahead' and experience relevant training and learning specific to the sector. It also assists in their transition after graduation to apprenticeship training, college, university or the workplace. An SHSM is a four-semester, two-year program for any interested student in grades 11 or 12. For more information visit the Ministry of Education SHSM Website.
Learn more at​ www.hwdsb.on.ca/SHSM
Tier 3 interventions and/or supports include:
specialized support programs which require a low student-to-staff ratio in order to provide focused, direct and personalized assistance to students
non-credit special education programs for students who require intensive, continuous, and individualized support with a low student-to-staff ratio
individualized credit-granting programs for students unable to attend a traditional school setting for a period of time
Accelerated Literacy Program Hamilton Area (ALPHA)
ALPHA is an accelerated program for students aged 14 to 18 who have recently arrived in Ontario schools with limited prior schooling. In this program, students make significant gains in English language development literacy and numeracy skills as well as academic skills and knowledge. ALPHA is designed for students who are fluent in their home language and who would benefit from an accelerated program which allow for two years of learning to be addressed in one year. Students are referred to this program upon entry to HWDSB through the Assessment Centre. The goal is for the students to be successfully integrated into a regular classroom.
Native Youth Advancement With Education Hamilton, NYA:WEH
Provides a culturally based support for Aboriginal youth. The program combines two streams of education, Western and Traditional, which are integral to the success of Aboriginal youth. Specific support for First Nation, Metis and Inuit students in the following areas: Academic Assistance; Culturally Sensitive Resource; Social and Personal Consultation; Access to Tutors; and Student Advocacy. At Sir John A. Macdonald, Delta, Mountain and Sir Winston Churchill Secondary Schools. Learn more on our NYA:WEH page.
NuSteel Program
NuSteel is located in the heart of Hamilton's arts community on James St. North and is available to students with an interest in pursuing possible careers in the arts. The referral process for this program is through Central Intake, and we also welcome referrals for students in the care of CAS, via their case workers. Students partaking in the NuSteel program have an opportunity to engage in cross-curricular projects that culminate in hand-printed products, including posters, t-shirts, bags, and postcards. The program covers a variety of subjects, including English, Visual Art, History, Careers and Civics. At Centre3, students have the opportunity to participate in Hamilton's monthly Art Crawls, and experience the life of an artist-entrepreneur.  Students also have the opportunity to work in a community of artists, to observe artists in their craft, and to learn valuable new skills in this rich environment. Keep up to date with all the great things happening with our blog nusteel.blogspot.ca
Graduated Support Program
Graduated Support Program Specific support for students including integration in the school and community, appropriate to the student's strengths. Although they may not be earning credits, students in this program have the ability to achieve a level of independence in the community upon graduation. Learn more on our Special Education web page.
Extensive Support Program
Intensive, continuous, and individualized support. Collaboration with parents and community partners in order to provide appropriate programming and transition to community supports. Learn more on our Special Education web page.
Personalized Learning Support Program
An individualized educational alternative program for students who cannot learn in a regular school setting. Students remain connected to their home school. Learn more on our Special Education web page.
Young and Expecting Parent Program (YEPP)
This program for young and expecting parents (male or female) aged 14 to 21 is located at Sir Winston Churchill Secondary School. Students are able to bring their infant to the classroom with them. Students work with a Secondary School teacher to earn credits and also receive hands on parenting support from an Early Childhood Educator. Students have the opportunity to learn alongside other young parents and connect with a variety of community resources such as the Ontario Early Years Centres. Interested students should speak with a guidance counsellor at their school for registration information.
Updated on Wednesday, May 24, 2023.