Do you want to complete/upgrade your High School Diploma?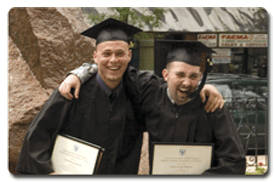 Students that enroll in our Continuing Education credit programs can get the credits they need, earn their high school diploma and are more confident and prepared for the workplace or for college/university entrance.
We offer a variety of programs to allow you to complete credits in a way that fits your life.  We can help you to determine the pathway and programs that are right for you.
Book your CREDIT ASSESSMENT today to learn how equivalency credits can help you complete your diploma faster, call 905-521-2554.
Please see our "Register with CE" page for student registration requirements.
Learn how PLAR credits can help you graduate faster!
A full-time (in class Monday-Friday), 6 week program that helps you earn your Ontario Secondary School Diploma or allows you to earn courses required for your future employment or education.
Cooperative education is a structured method of combining secondary education with practical work experience.
A flexible way for adults to re-engage in school and to complete their final credits to graduate.
Specially designed for students who've recently left Secondary School with fewer than 16 credits.  This program allows students to work on senior credits and prepare for the Grade 9/10 Prior Learning Assessment so they can get on the FASTtrack to graduation.
With the flexibility to complete your work when it fits your schedule, the structure of terms and due dates and direct contact with your teacher, many students find On-line Learning to be their perfect fit !
The freedom to work at your own pace and on your own time. The Independent Study Program will only be accepting new students until August 31, 2018 and all courses must be completed by August 31, 2019 when the program ends.  There will be no carry-over into other programs for incomplete courses.

Earn extra credits at night.
The fast track to earning extra credits or making them up…
Do you want some help figuring our WHERE TO START?
Updated on Wednesday, March 27, 2019.