Welcome to the enhanced Parent Portal
An important tool for school reopening 2020-21
In Parent Portal, you can connect to your child's school online, anytime, anywhere. Available in the following languages: English, French, Spanish, Arabic, Urdu, Punjabi, Simplified Chinese, and Serbian.
This year, we need you to visit the portal to tell us if your child will attend school in-person in September 2020 and that you understand the screening criteria and symptoms that would require your child to stay home or leave school.
The new Parent Portal supports busy families who want to:
View your child's grades and attendance
Complete school and board forms online
Report an absence from school
Pay for school items or events using School Cash Online
Find transportation information
Conduct your Daily Wellness Screening
Communicate with your child's teacher
View your school's website, and more!
---
Trouble Logging In?
Instructions to Set-Up Your Account and Fill Out Your Forms:
Each parent registered as a child's contact in our student information system had a Parent Portal account generated for them automatically. Following the below steps will help you activate your account and sign in.
Step 1
Visit https://ps.hwdsb.on.ca/public/
Make sure you are on the Sign In tab
You do not need to click Create Account. Accounts have been created for you.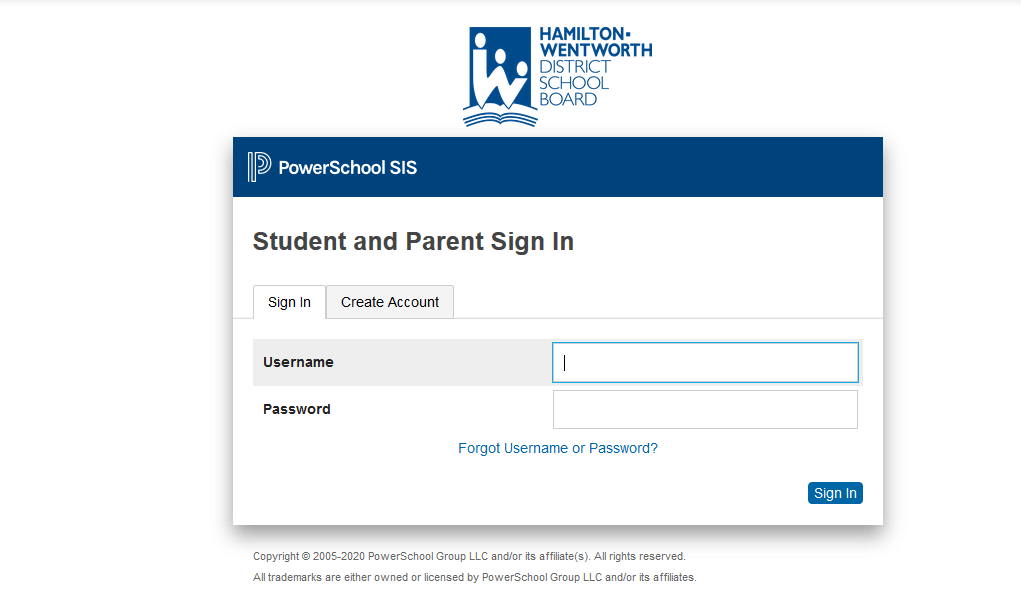 Step 2
Step 3
Make sure you are on the Forgot Password
Your username (e.x. jdoe) is the email address that your child's school has on file for you, without the email extension (e.x. @gmail.com).
Parent email address is the full email address that is on file with the school (e.x. jdoe@gmail.com)
Click Enter
If you are still receiving an error message, please contact your school.
Step 4
Check your email inbox for an email from Info (make sure to check your junk mail)
If you do not receive the "Reset your Password" email, please contact us at info@hwdsb.on.ca or by phone at 905-527-5092

Step 5
Follow the instructions to reset the password and you will have access to the Parent Portal.
Step 6
Step 7
Step 8
PLEASE NOTE:
Secondary school parents who already had an account will need to set-up their new account, as the old Parent Portal is now offline.
Parents do not need to add their students using an access ID and password. Student information is automatically attached. If you cannot access your student, please contact your school.
Parents of students 18 years or older will not be able to access the Parent Portal until their child gives the school permission
HWDSB employees are not to use their HWDSB email account
This parent account is separate from your child's HUB account
Updated on Tuesday, September 15, 2020.