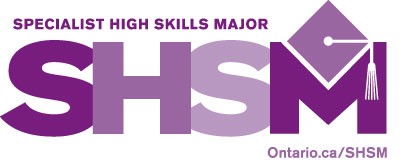 A Specialist High Skills Major (SHSM) is a ministry-approved specialized program that allows students to focus their learning on a specific economic sector while meeting the requirements needed to graduate from secondary school.
Through specialized programming, students are given the opportunity to reach ahead and experience relevant training and learning specific to their sector of study. Students will participate in a variety of experiential learning opportunities in the community and complete several sector-specific certifications.
The two-year program is for any interested student in grades 11 and 12. Students who successfully complete all requirements earn a special seal on their diploma and receive a record card outlining the specialized courses and certifications they have earned.
An SHSM assists students in their transition from secondary school into apprenticeship training, college, university or the workplace.
Click here to view our 2023-24 SHSM program offerings. You can also click the links below to visit program-specific SHSM webpages.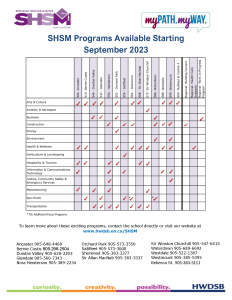 Pursuing an SHSM enables students to:
customize their secondary school education to suit their interests and talents;
develop specialized knowledge and skills that are valued by the sector and postsecondary education institutions;
earn credits that are recognized by the sector and postsecondary education institutions;
gain sector-specific and career-relevant certification and training;
develop essential skills and work habits that are valued by the sector;
identify, explore, and refine their career goals and make informed decisions about their postsecondary destination; and
remain flexible, with the option to shift between pathways should their goals and plans change.
There are five requirements that must be met in order for a student to graduate with an SHSM seal:
1. Completion of a bundle of grade 11 and 12 required courses:
Four major credits focusing in the sector under study
Two or three other required courses that complement the study of the sector: ie. English, Math, Science, Business Studies or Canadian & World Studies
Two or more Cooperative Education credits (Coop must take place at a sector appropriate work placement)
2. Completion of six to eight certifications:
Students in all sectors receive First Aid, CPR and WHMIS training
Students also complete a variety of additional industry-recognized certifications related to their specific sector of study. Examples include: Working at Heights, Basic Health and Safety, Ethical Considerations, Infection Control and Advanced Training in a Technique
3. Participation in Experiential Learning
This could include job shadowing, job twinning, short-term work experience, industry tours, trade shows, conferences, and field studies.
4. Participation in Reach Ahead Opportunities
This could include visits to colleges, universities and apprenticeship training facilities, and interviews with industry professionals.
5. Participation in a Sector Partner Contextualized Experience
Students connect with a community partner to participate in a sector-specific specialized training session in Innovation, Creativity and Entrepreneurship, Math Literacy, or Coding.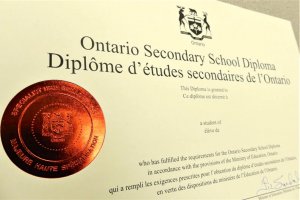 Students who complete the requirements for the OSSD and for the SHSM will receive an OSSD with an embossed SHSM seal on it. Credits earned towards the SHSM are indicated on the Provincial Report Card, and completion of the SHSM is recorded on the Ontario Student Transcript (OST). In addition, students receive an SHSM Record outlining their achievement in the five required components.
Click here to view our 2023-24 SHSM program offerings.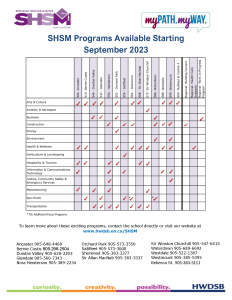 Updated on Sunday, October 15, 2023.