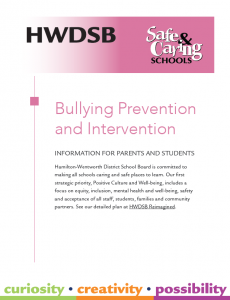 At HWDSB, we are committed to making all schools caring and safe places to learn. Our first strategic priority, Positive Culture and Well-being, includes a focus on equity, inclusion, mental health and well-being, safety and acceptance of all staff, students, families and community partners.
We know that bullying exists in our schools and community – and want to do all that we can to prevent it and intervene effectively.
Parents and children should never feel alone or suffer the consequences of bullying in silence. Please tell a teacher, vice-principal or principal at your child's school immediately if you have a concern.
The Bullying Prevention and Intervention resource contains valuable information for families and students. The resource addresses topics such as what is bullying, what families can do about bullying and much more.
What is bullying?
Bullying is typically a form of repeated, persistent and aggressive behaviour directed at an individual or individuals that is intended to cause (or should be known to cause), fear and distress and/or harm to another person's body, feelings, self-esteem or reputation. Bullying sometimes may also occur in a single event or occurrence.
What should I do if my child is bullied?
Listen to your child; assure them that they have a right to be safe.
Know the facts about what happened and when.
Explain to your child that reporting takes courage and protects others.
Please tell your child's teacher, trusted school staff or the principal or vice-principal.
Remain calm so that you can support your child and co-plan a course of action.
Stay on course. Watch your child's behaviour. If meetings with staff don't stop the bullying, talk to the principal. Follow up on the steps agreed to at the meeting.
If bullying occurs during sports or activities, speak to the instructor or coach.
Contact police if bullying involves criminal behaviour (e.g. sexual assault, use of a weapon), or threats outside of school.
How to report bullying
Please tell your child's teacher, vice-principal or principal immediately.
If reporting bullying to staff is uncomfortable, students can use the free and anonymous HWDSB Helps service to share a tip about bullying, mental health, substance use and more. Tips are sent to school staff. This is not a crisis line or counselling service.
Text 905-963-0066. Standard rates apply.
Download the HWDSB Helps app for iOS and Android.
If you have questions, please contact your school's principal.
Community Help
COAST Hamilton: Mental health crisis line (905) 972-8338; coasthamilton.ca
Kids Help Phone: 24/7 counselling for youth, crisis line 1-800-668-6868; kidshelpphone.ca
In case of emergency, call 911.
Policy and Procedure
Bullying Prevention and Intervention Policy
Bullying Prevention and Intervention Procedure
Updated on Friday, November 01, 2019.