Continuing Education 2022 Summer Programs for Elementary Students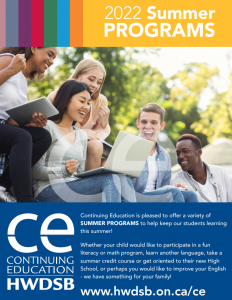 Continuing Education is pleased to share its 2022 Summer Programs brochure! A wide variety of FREE programs are being offered to help meet the needs of families across the Hamilton area trying to help their students build or retain skills needed to be successful in school. A majority of these programs are geared towards elementary school students.
2022 Summer Programs brochure: CE – 2022 Summer Programs Brochure
2022 Summer Programs information: hwdsb.on.ca/cce/summer/
International Languages Elementary (IILE) Program
Students currently in Junior Kindergarten to Grade 8 are eligible to participate. The IILE program exists to educate our students with a new language and/or strengthen their skills in the language(s) of their choice. Students will learn to speak, listen, read, and write in these lessons, as well as have assigned homework, and opportunity to participate in class.
IILE Classes include:
On-line programs – 1.5-hour synchronous lesson per day (over MS Teams) in addition to assigned work, or
In-Person programs – 2.5 hours of In-Person instruction per day
The summer program runs from July 4 to 29 (Mon-Fri). Learning a language is a valuable skill and experience that our students can carry with them as they continue with their education for years to come.
Information and registration: hwdsb.on.ca/cce/summer/summer-ile/
Summer Literacy and Numeracy Skill Builder Programs
The non-credit programs are available to students currently in Grades 6 & 7 (Elementary) and Grades 8-12 (Secondary). The purpose of these programs is to enrich and develop Literacy and Numeracy skills. In 2022, we are excited to offer a variety of programs, some In-Person and some On-line including:
Skill Builder Literacy Programs (fully online)
Skill Builder Math Programs (fully online)
Fractions Program (fully online)
Art & Literacy (both in-person and online options available)'
Coding & Literacy (or Numeracy) (fully online)
Basketball and Literacy (in person)
Soccer and Literacy (in person)
Online programs will include a two-hour real time/synchronous online lesson each day and fun activities for the students to complete beyond the lesson time. In-Person programs will be three hours long.
Information and registration: hwdsb.on.ca/cce/summer/summer-non-credit/
Summer ESL Literacy Program 
English language Learners, level 3/CO or below, in grades 6-12 are encouraged to participate in this program. These courses run July 5-28 (Mon-Fri). In-person programs are being offered at Bernie Custis, Nora Henderson and Sir Allan MacNab Secondary Schools.  Registration for this program is completed through ESL teaching staff and School Administrators. Please contact your student's ESL Teacher to register!
More information: hwdsb.on.ca/cce/esl-literacy/
Grade 9 Orientation programs
We encourage all of our Grade 8's to participate in the Grade 9 Orientation program offered in conjunction with HWDSB Secondary Schools during the last weeks of August. These programs will help support and ease the transition to High School, students will feel more comfortable with tools and expectations of Secondary School, meet teachers and connect/reconnect with fellow students. No registration will be required for this program as all grade 9's will automatically be enrolled for this program at the High School they are registered to attend in September 2022.
More information: hwdsb.on.ca/cce/gr9-orientation/
Reach Ahead CREDIT Program
Current Grade 8 students transitioning to Grade 9 can earn a half credit or a full credit before starting High School. We are offering Civics and Careers courses to all Grade 8s who will transition to Grade 9 in the fall. These open level half-credit courses can be taken individually (9 days) or in combination (18 days). This is the only credit program available to students reaching ahead before Grade 9. These courses will be offered online.
Registration and information: hwdsb.on.ca/cce/reach-ahead/
General Information
Please note that students may only attend one program at a time. For example, Reach Ahead in July and a Skill Builder July program cannot be taken together, however, students can take Reach Ahead in July and a Skill Builder Program in August.
Students currently attending an HWDSB School who will be returning to a HWDSB school in September 2022 are eligible for device deployment. IILE program participants are not eligible for device deployment.
If you have any questions about these programs, please feel free to contact the CE Main Office by email at ce@hwdsb.on.ca for assistance.
Updated on Wednesday, April 20, 2022.