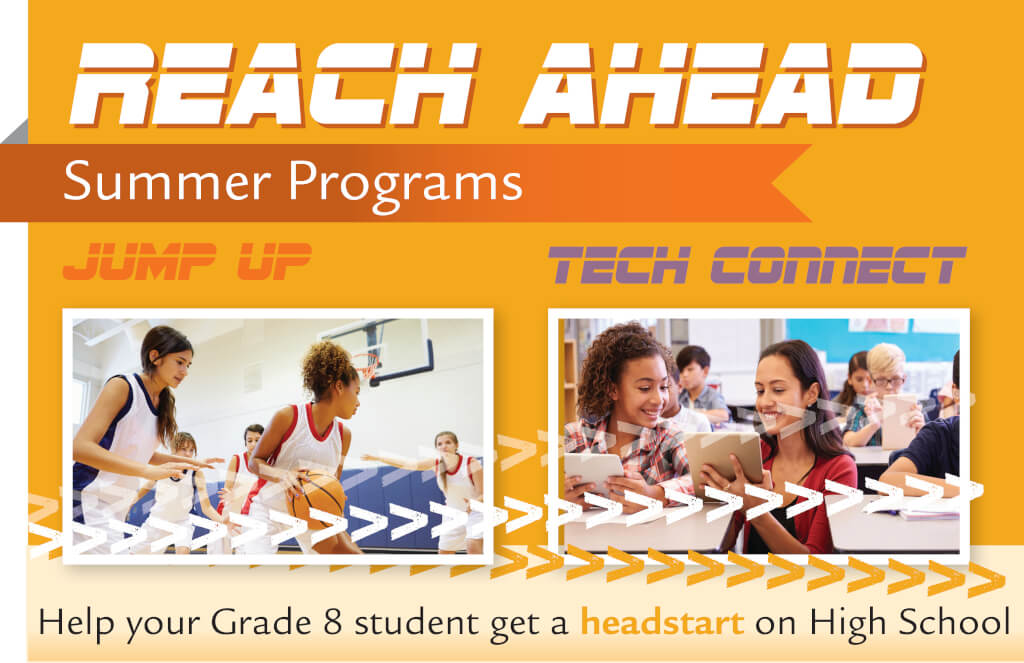 2019 Summer Reach Ahead Programs
Thank you for your interest – Reach Ahead Summer 2019 programs are now closed to enrolment.  Confirmations will be sent in late June.
Program Dates: July 3 to 26, 2019 (Monday to Friday)
Times: 8:00 a.m. to 2:00 p.m.
Programs:
JumpUP

Course Code: PAF1O

Focus is on Healthy Active Living!
Students will participate in health focused projects and a variety of physical activities
Indoor and outdoor team games, sports, fitness training and more.
Offered at Nora F. Henderson and Prince of Wales

 

TechConnect

Course Code: TGJ1O

Learn about and experience the real world use of Communications and Computer Technology
Programming includes learning the basics of working with digital media.
Offered at Nora F. Henderson
Registration for summer 2019 is closed
Attendance:  Inform the teacher each day if you will be absent.  Please remember, parents are responsible for the timely arrival and departure of their child(ren) each day.  Students who miss more than three (3) days of this Reach Ahead program may not be eligible to complete the credit.
Behaviour:  Students enrolled in Summer Reach Ahead Programs must make every effort to complete both in class and homework assigned to them.  Any lost time and / or assignments must be reconciled with their classroom teacher.  Students must be respectful of their teachers, fellow classmates and all other support staff on site at designated schools.  Parents will be contacted by the teacher and / or Principal should there be any concerns.  Students may be asked to leave the program if there are any concerns.
Support:  There are no Special Education Resource Teachers available to assist with program modifications / accommodations.  Every effort will be made by the classroom teacher to support and enhance the learning of each student.  Identified students with Individual Education plans are welcome to attend with the above understanding.  HWDSB is committed to protecting your personal information.What to Bring:
Program participants need to bring the following items with them to the Summer Reach Ahead Program everyday:
Pen/pencil, eraser, peanut free lunch & snacks, water bottle, attire appropriate to the program, summer hat, sunscreen
Registration deadline is Friday, May 31, 2019.
Continuing Education reserves the right to cancel or relocate programs.  Confirmations for programs and notices of cancellation/relocation that are running will be sent the week of June 17th.
Frequently Asked Questions
If you have any questions or require additional information, please contact the Continuing Education Hill Park Learning Centre by calling 905-561-2190 or by e-mail at ce@hwdsb.on.ca .
Updated on Monday, June 03, 2019.