Bullying Awareness and Prevention Week 2023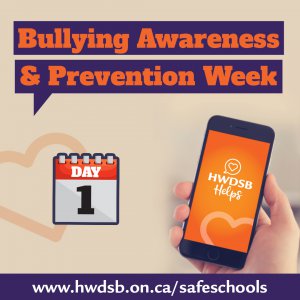 Ontario has designated the third full week of November as Bullying Awareness and Prevention Week to help promote safe schools and a positive learning environment. While this learning is taking place throughout the year, we especially encourage students, staff and families to join school boards across Ontario to learn more about bullying and its impact on student learning and well-being.  
 As a part of this week, we are excited to share some of the work informed by students, staff, families and community organizations through HWDSB's Safe Schools Action Plan.
Highlights of this ongoing collaboration include the revitalization of the HWDSB Helps anonymous reporting tool, student and family resources to support what happens when bullying is reported and resources for schools that support a clear understanding of bullying prevention, response and intervention. 
HWDSB Helps is a free and anonymous way for students to find help for themselves and one another. Tips may relate to student mental health, bullying, substance use and more. When students, staff and families help promote a positive school environment, schools are safer and more welcoming places. The service receives anonymous messages and shares the report with staff who follow existing Board and school protocols.  
The HWDSB Helps Poster Contest continues into Bullying Awareness and Prevention Week! The winning posters will be displayed throughout HWDSB schools. Students can enter the contest by creating and submitting their own HWDSB Helps poster. Your poster should include a title, a description, and visuals. Click here to learn how to enter.  
For student and family resources this Bullying Prevention and Awareness Week, be sure to head to our Safe Schools webpage. Visitors will find tips on what to do if someone is experiencing bullying, as well as a list of resources broken down into topics.  
Bullying awareness and prevention will be front and centre in HWDSB classrooms this week thanks to a series of Reimagining Wellness lessons with specific anti-bullying themes. Students can learn about the similarities and differences between teasing, bullying and aggression, the impacts of cyberbullying and more.  
Bullying Awareness and Prevention Week will also be celebrated at the school level with five themed days that explore topics related to bullying, mental health, healthy relationships and more. Click the drop-down buttons to read about the different topics.  
Monday, November 20 - Transgender Day of Remembrance
Tuesday, November 21 – Bullying Impacts Us All
Wednesday, November 22 - Be an UPstander
Thursday, November 23 – Cyberbullying
Friday, November 24 – HWDSB Helps
Updated on Monday, November 20, 2023.