HWDSB Helps is a free and anonymous way for students to find help for themselves and one another. Tips may relate to student mental health, bullying, substance use and more. When students, staff and families help promote a positive school environment, schools are safer and more welcoming places.
The service receives anonymous messages and shares the report with staff who follow existing Board and school protocols. This is not a crisis line or counselling service.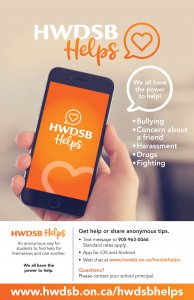 Get help or share anonymous tips using…
Text to 905-963-0066. Standard rates apply.
The HWDSB Helps app for iOS and Android.
In case of emergency, call 911. Other crisis supports include:
COAST Hamilton: Mental health crisis line (905) 972-8338; coasthamilton.ca
Kids Help Phone: 24/7 counselling for youth, crisis line 1-800-668-6868; kidshelpphone.ca
Find more information related to mental health and well-being on our We Help page. Find more information related to bullying on our Safe Schools page.
If you have questions, please contact your school's principal.
Updated on Tuesday, August 15, 2023.