This program trains students in all aspects of the arts including Foundations of Theory and Technique, Individual and Collaborative Creation and Performance, and Critical Analysis. Students major in two of eight disciplines: Dance, Drama (Performance and Production); Music (Band, Contemporary, Strings, Vocal); or Visual and Media Arts.
In addition to required credits, students have experiential learning opportunities such as career exploration, professional certification, discipline-specific training, opportunities beyond the classroom and seasonal collaborations on large-scale stage productions, small-scale studio productions and informal studio productions that invite broader school participation.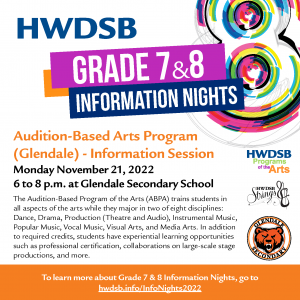 Graduating students receive a Certificate of Recognition in the Arts and Additional Qualifications such as industry training, professional resume and headshot, and a professional portfolio.
Located at Glendale Secondary School. Contact at abpa@hwdsb.on.ca
Information Session
Monday, November 21, 2022
LOCATION CHANGE: Now at Glendale Secondary School
145 Rainbow Drive, Hamilton, Ontario L8K4G1
Flyer: Program of the Arts Info Night
Watch a recording of the November 21 information session below, or click here to watch it on HWDSB.tv.
Click here to learn more about Grade 7 & 8 Information Nights.
2023-24 Application Timeline
PDF with full listing: Important Dates for HWDSB ABPA 2023-24 Application Process
Information Session: November 21, 2022
Applications Due: December 16, 2022
Performing Arts Auditions/Media and Visual Arts Portfolios sent to abpa@hwdsb.on.ca: January 20, 2023 by 4 p.m.
Auditions/Portfolio Review: February 2, 2023 from 9 a.m. to 6 p.m. (sign up times will be available)
Acceptance Letters Sent: February 4, 2023
Notification of Acceptance Due Back: February 11, 2023
Completion of option sheets for 2023-24: February 15, 2023 at Glendale Secondary School from 6 to 8 p.m.
Apply
Click here to complete your application online. This form is now available and will close on December 16, 2022.
Audition/Portfolio Information
Contact for more information:
HWDSB Audition-Based Program of the Arts
145 Rainbow Drive, Hamilton ON, L8K 4G1
905-560-7343 ABPA@hwdsb.on.ca
Updated on Friday, January 06, 2023.