Read the Update on Optional Transition to Full-Time Remote – January 2022
HWDSB is offering remote learning for elementary students (Kindergarten to Grade 8) in 2021-22 as an option for families concerned about the COVID-19 pandemic as directed by the Ministry of Education.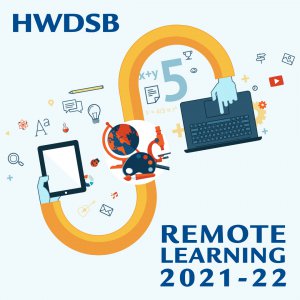 Last spring, parents, guardians and caregivers had the opportunity select elementary remote learning for 2021-22. Families interested in transitioning from in-person to remote learning this fall can complete the remote learning form in the Parent Portal.
By default, students will be considered in-person learners unless this choice is selected.
This year elementary remote learning will be connected to physical schools as part of a dual-track model. This model allows students to learn remotely while being connected to a physical school. The remote teachers will be members of the school staff and the school principal will also be the remote principal. The start and end times for the remote classroom will be based on the school's bell times.
Families who completed the remote learning form last spring were offered a remote placement in a school placement at the end of June. New requests to transition between in-person and remote learning will be processed in early September. Families will begin the school year in their original selection and transition to their new selection in early October.
The Parent Portal is the first and preferred method to register your choice. Some parents, however, may need assistance if you are unable to access the Parent Portal.
Call your school or email using the Elementary School Emails listing if you are unable to access the Parent Portal.
School office staff will input your choice into HWDSB's student information system if accessing the Parent Portal is a barrier.
Parents and guardians from the remote learning school can contact the main office for support.
Families will receive their new registration information for the 2021-22 school year after the survey closes. We will provide updates from the Ministry of Education that may impact adjustments to the proposed remote learning program.
Families are asked to commit to their preferred learning model for the remainder of the 2021-22 school year. However, there will be an opportunity for remote learners to transition to in-person learning later in the school year, depending on Ministry of Education directions.
If you have difficulty with the Parent Portal it is necessary that you make contact with your child's school before the end of the school day on Friday September 10.  
Parent Portal Instructions 
When parents, guardians and caregivers enter the Parent Portal, they should see a login. Once logged in, select 'Forms' on the left.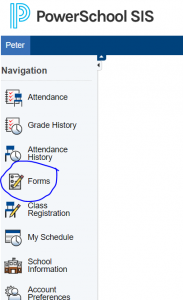 Once the 'Forms' page is loaded, find the "Remote Learning Survey (Sept 2021)" form.

This is where parents, guardians and caregivers can view and submit the form.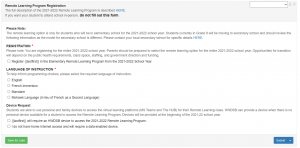 There will be a mix of live teaching time and independent work time each day. Students will cover all subjects and curriculum as they would in a physical school. Students will receive the same report cards as in-person school. The remote learning classroom will use MS Teams and the HUB as the platforms to deliver instruction. Families will be provided with a device if a student needs a device.
Specialized Services support and English as Second Language support will be provided, as needed. French Immersion, Mandarin, and Mohawk language programming may be offered based on enrolment and the availability of staff.
How is the board providing elementary remote learning in 2021-22? 
The HWDSB will place remote classrooms in physical schools rather than as a separate program as it did in 2020-21. For example, a school may have 15 in-person classes and 5 remote classes? This is called a dual track model. 
What is the "dual track model"? 
The dual track model means that schools will have some classes that are remote and some classes that are in-person. Both remote and in-person students will be part of the school. Remote learning classes are part of schools, these are dedicated remote learning classes and distinct from in-person classes. 
What grades are being offered in the dual track model? 
All elementary grades from Kindergarten through Grade 8 will be offered through this model. 
Will all schools offer the dual track model? 
All elementary students in the HWDSB can commit to the remote learning program. The location of the specific classes will depend on factors such as total enrolment, staffing, and physical space in the school. The HWDSB cannot guarantee the location of a particular class at this point in time. 
Why have you changed from the existing Elementary Remote Learning Program? 
Being part of a school community is important. The dual track model makes remote students and educators part of school community. Families can visit the school and meet the principal and teacher if needed, and if public health measures allow it. There may be the possibility of participating in activities in person.  
The resources in the school (e.g., bookrooms) are available to teachers and supports like Learning Resource and English as a Second Language are also available to students. 
The dual track model also allows for a smoother transition back to all in-person learning if the Ministry of Education directs students to learn in-person. 
Why does the HWDSB want a year's commitment to remote learning?  
Creating stable classes is important for student learning and well-being. The HWDSB is asking for a commitment to try and limit disruptions through the transitioning of students between remote and in-person. 
Why is the HWDSB asking for a commitment to remote learning now? 
Having staff in place to start the school year is an important part of ensuring stability for student learning and well-being. It takes considerable time to work through the various steps required to have appropriate staffing in place before the school year starts. 
Will there be any transition opportunities? 
Yes, there will be a transition in early October when schools re-organize. Otherwise, transition requests will be considered where there are extraordinary circumstances. 
Can we move back and forth between in-person and remote? 
Transitions disrupt student learning. Families making a transition will stay in their new school for the rest of the year, unless there is an extraordinary circumstance. 
What subjects are being taught in remote learning? 
All subjects in the Ontario Curriculum will be taught over the course of the school year. 
Will students in remote learning receive a report card? 
Students in a remote learning classroom will receive the same progress and report cards as other in-person students. 
My child has an Individual Education Plan (IEP), how will that be monitored? 
The school, through the principal and learning resource teacher, will follow IEP processes the same as if the student was in-person. 
What technology platforms will be used? 
Remote learning classes will use the HUB and MS Teams, the same platforms in use this year. 
Do I need an HWDSB device to access remote learning? 
No. You are welcome to use any personal digital device that can access MS Teams and the HUB learning platform. 
What if a student does not have a device at home that they can use? 
The HWDSB will provide students with a device if it is required to access remote learning. The request for this device is part of the Parent Portal form. 
When will I receive information after I complete the Parent Portal Commitment? 
All families that complete the Parent Portal Commitment will receive a communication with further information by June 30th. 
What happens if a choice for the elementary remote learning option is not indicated? 
Parents who are interested in sending their child to the elementary learning program must complete the registration in the Parent Portal when it opens. All families are defaulted to in-person learning unless a choice is indicated.
HWDSB hosted a virtual information session to discuss both the elementary and secondary remote learning options for the 2021-22 school year. The event featured presentations specific to each model (elementary and secondary) that give families an overview of what to expect if they choose a remote option. There was also an opportunity for attendees to ask questions through the chat function.
This virtual information session took place on Thursday, May 27, 2021 from 6:30 p.m. – 7:30 p.m. via MS Teams Live. The event has been recorded and posted to the HWDSB website for those who could not make it.
Find a recording of the virtual information session below or view it on HWDSB.tv here.
Updated on Tuesday, February 22, 2022.