Temporary Universal Masking Requirement
Dear Families,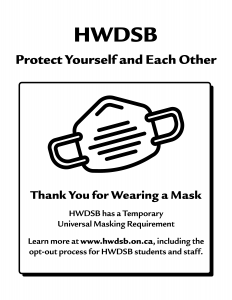 We continue to prioritize the health, safety, and well-being of HWDSB students and staff. 
HWDSB Trustees are responding to the recommendation by public health to wear a mask indoors. This action is a supportive measure to reduce the spread of respiratory illnesses that are impacting students. 
On Monday, December 5, 2022, the Board of Trustees passed the following motion:  
That staff operationalize a temporary universal masking requirement, with an unrestricted option to opt-out, in all HWDSB schools, and that the temporary requirement be renewable at the first Board meeting in January.
This means that students and staff in schools are required to wear a mask in HWDSB schools, unless they have opted out, and should continue to do so until the motion is reviewed at the Board Meeting on Monday, January 16, 2023. 
Masks Availability  
Medical masks will continue to be made readily available in school offices and in classrooms for staff and students. Staff will offer and provide a medical mask for visitors to schools, as requested. 
Opting Out Process for Students 
Students have unrestricted access to the opt-out process. A parent, guardian, or caregiver may complete the Mask Opt-Out form in the Parent Portal on behalf of their child/ren. A paper copy can be made available at the school. They may also let the school know verbally if they prefer.  
The form in the

Parent Portal

is now available in the Forms section.

 

The title of the form is

HWDSB Temporary Universal Masking Requirement (OPT OUT Form for Students)

.

 

If you need support accessing the Parent Portal, please

click here

.

 
Mask Protection 
Public health has advised that wearing a well-fitted face mask protects you and those around you. Masks can help contain your respiratory particles. Masks also prevent or reduce the amount of infectious respiratory particles you inhale, particularly when wearing a well-constructed, well-fitting mask.  
 When wearing a face covering or mask: 
Immediately wash your hands before putting the face covering or mask on, before adjusting it, before taking it off and after taking it off. Use soap and water or an alcohol-based hand sanitizer to wash your hands. 

 

Make sure the face covering fits well, covering your mouth, nose and chin. The mask should fit your face, leaving no gaps on the sides.

 

Make sure your face covering or mask is secured to your head with ties or ear loops without the need to adjust frequently. 

 

Ensure that the pleats on the outside are facing down, if your mask has pleats. 

 

Gently mould the metal strip over the bridge of your nose to ensure a close fit, if your mask has one. 

 

Avoid moving the face covering or mask around or touching the covering while using it.

 

Do not share your face covering or mask with others, even within your own household.

 

Do not leave your face covering or mask tucked under your chin, hanging from your ear, or on your forehead.

 

Replace the face covering or mask as soon as it becomes damp, dirty, damaged or if it has shrunk after washing and drying.

 
Learn more about mask protection from Hamilton Public Health Services: Protect Yourself and Others. 
Additional Supportive Health Measures 
We ask that individuals take personal measures to prevent the spread of illness by:  
Screening daily – the

School and Child Care Screening Tool

has been updated to align with recent recommendations from the Chief Medical Officer of Health.

 

Staying home if you are unwell.

 

Practicing good hand hygiene.

 

Adhering to proper cough and sneeze etiquette.

 
At HWDSB, we will continue to do enhanced cleaning, provide ventilation as per direction from the Ministry of Education and provide supplies for cleaning and disinfecting shared surfaces and items. Signage will be displayed in schools and classrooms to raise awareness about mask-wearing in HWDSB schools.   
HWDSB's masking requirement is intended to be supportive, not punitive. We hope that wearing a mask will help reduce illness and we are also focused on promoting positive behaviours. 
We all play a role in creating the positive culture that is foundational for the well-being of students and staff in HWDSB schools. Thank you for continuing to demonstrate respect, care, and kindness toward each other. 
Sincerely,  
Sheryl Robinson Petrazzini  
Director of Education  
Updated on Thursday, December 08, 2022.