TikTok will no longer be permitted on HWDSB devices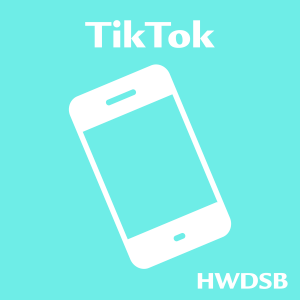 Hamilton-Wentworth District School Board (HWDSB) will be following the Government of Canada and Government of Ontario's lead and making TikTok inaccessible from Board devices and within networks. The change will begin at the end of the day on Friday, March 10, 2023.
The Government of Canada banned TikTok on all government devices in late February, with the Province of Ontario following in early March.
"In the interest of maintaining the privacy of our students and staff, we have made the decision to remove access to TikTok from Board devices," said Matthew Gerard, Associate Director, Support Services.
"We recognize the concerns of both public officials and private citizens regarding this platform and felt like this was the decision that needed to be made at this time. We look forward to continuing to use innovative and engaging platforms to foster student learning and well-being."
HWDSB's Social Media Guidelines have been updated as TikTok was listed an optional platform that can be used on behalf of a user or group (i.e. Student group/club, or school council). These accounts are being reviewed and will be deactivated.
Privacy is important and aligns with HWDSB's Digital Citizenship approach. This decision was made with the privacy of our students and staff in mind and the protection of our technology infrastructure.
Additional Information: 
HWDSB does not have a TikTok account or advertise on this platform.
There have been no data breaches at HWDSB related to TikTok.
Board devices include devices used by staff and students.
This does not apply to personal devices.
Other social media platforms are unaffected at this time.
Updated on Friday, March 10, 2023.