Orchard Park Student Wins CityNews 680 Junior Traffic Reporter Contest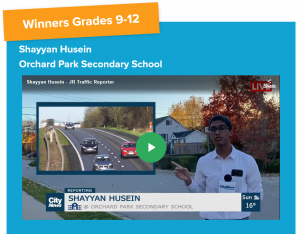 Shayyan Husein, a student at Orchard Park Secondary School, is the top prize winner of CityNews 680's Junior Traffic Reporter Contest!
The Junior Traffic Reporter Contest challenges students around the Greater Toronto Area (GTA) to show what it takes to become a CityNews 680 Traffic Reporter by submitting a 30 to 60-second video reading a traffic report. Winners of the contest were awarded $500 towards their school, which Shayyan has big plans for.
As the President and Founder of Orchard Park's Muslim Student Association (MSA), Shayyan knew exactly where this money would go. "When I heard that contest winners would receive money for their school, I immediately thought of the club that lives in my mind throughout the school year, the Muslim Student Association," said Shayyan. "As president of the MSA, it is my duty to be inclusive and to make all Muslim students feel welcome and proud of their religion."
Thinking about how the prize money can make a difference for MSA, Shayyan says he has ambitious plans to revitalize the new prayer room at Orchard Park. "On top of the prayer room, the money can be used for creating events to give back to the local community and to those who are less fortunate. After all, Islam is all about peace and giving back to those, no matter what situation they are in," he said.
Shayyan heard about the contest from his mother and praises her as his inspiration to participate. "My inspiration came from my very own mother, who since day one, has always believed in me to accomplish anything that I step forward in," said Shayyan. "I was overjoyed to have achieved the challenge set for me by the person who believes in me the most."
Shayyan also offered some words of encouragement to other students who may be struggling to begin their own journey towards their goals. "One piece of advice that has helped me succeed in a variety of extracurricular activities is to simply take the first step. It can be intimidating to start something new, but once you do, the rest becomes much easier," he said. "Even if you don't achieve exactly what you set out to do, the process of trying and learning from your mistakes can be just as valuable. So don't be afraid to take that first step and see where it leads you, the more experiences, the better!"
Congratulations, Shayyan, on this big win! HWDSB and the Orchard Park community are so proud. To view Shayyan's winning contest video, please click here.
Updated on Friday, January 13, 2023.