HWDSB Secondary Schools Take on the First Climate Day of Action
Last month, students and staff from all 13 HWDSB secondary schools gathered at the Education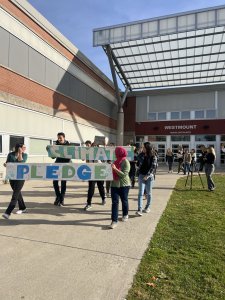 Centre for the 2023 Eco Summit! The event allowed students to begin planning action items to deal with the climate emergency, with the first being Climate Days of Action.
Last Thursday, secondary schools celebrated the first Climate Day of Action by hosting student-led activities and programming during school lunch hours to help increase student awareness of the climate emergency. With different activities being held at each school, students had the opportunity to create posters, share speeches, participate in chants, and more to help raise awareness about the climate emergency. Thank you to all students for your participation and dedication to protecting the planet, and to all staff who helped students share their voice on important issues that matter to them in a safe and uplifting environment.
Stay tuned for details on how secondary schools will be celebrating the second Climate Day of Action on Monday, April 22, 2024 (Earth Day)!
Please see below to view photos from the day, as well as CHCH News coverage featuring Saltfleet and Westmount secondary schools.
Updated on Monday, November 20, 2023.