HWDSB Marks Bullying Awareness and Prevention Week 2022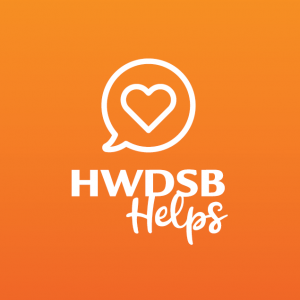 During the week of November 22-26, 2022, HWDSB will join school boards across Ontario to recognize Bullying Awareness and Prevention Week.
During this week, educators will be provided with engagement activities to support student learning. The material was shaped by staff input to support discussions around cyberbullying.
"Staff have identified cyberbullying as a priority they want to tackle," said Sharon Stephanian, Superintendent of Student Achievement, Student Well Being and Safe Schools Action Plan. "We need to continue to engage on the issue, and these materials can help."
The activities promote mindful discussions (or writing tasks) aligned with the literacy curriculum. Activities also include data talks that present graphs and statistics promoting critical reflection and discussion that link to the topic presented, as well the math curriculum. The content covered includes Media Balance, Digital Footprints, Digital Citizenship, Digital Drama and Digital Conflict.
At HWDSB, we continue to support all students to be upstanders when they witness bullying.
The service/app HWDSB Helps is a free and anonymous way for all students to find help and support for themselves and one another, when they don't know what to do. This is not a crisis line or counselling service. Concerns may relate to bullying, mental health, substance use and more.
As a Board, we are continuing work on the Safe Schools Action Plan. Staff have gathered feedback on the DRAFT Bullying Prevention and Intervention Policy, from students who have experienced bullying, particularly those who self-identify as Indigenous, Black, Racialized, Two Spirit and LGBGTQIA+ and students with disabilities.
This feedback will update the draft policy, so that it can then be shared with the wider community in Phase 2 of this consultation. Safe Schools Advisory Committees and Board staff will review feedback received in Phase 2 before the final draft is presented to Trustees for approval in January 2023.
Please learn more and see resources for students and families on our Safe Schools web page.
Sincerely,
Sharon Stephanian
Superintendent on Special Assignment, Safe Schools Action Plan, and Student Well-Being
Updated on Monday, November 21, 2022.