HWDSB Launches Staff Census, We All Count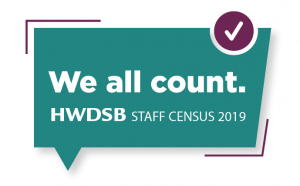 Hamilton, Ontario – April 2, 2019: Hamilton-Wentworth District School Board (HWDSB) has launched a voluntary, anonymous and confidential staff census to understand the makeup of its workforce, inform decision-making and foster workplace inclusion and equity.
The questions for We All Count: HWDSB Staff Census 2019 fall into two categories: questions about staff members' positions at HWDSB (employment status, length of employment, employee groups, etc.); and questions about their socio-demographics (including, but not limited to, race, ethnicity, sexual orientation, gender identity, etc.).
"We are taking deliberate steps toward becoming a more inclusive workplace," said Director of Education Manny Figueiredo. "To increase equity and inclusion, first we need to take a snapshot of where we are now."
The census was shaped by input from staff throughout HWDSB, as well as census efforts at Peel, Durham and other school boards. HWDSB's census steering committee included representatives from union groups, departments, staff leading equity work and others.
"Asking about a person's identity can be uncomfortable, but we are doing it with great sensitivity and for the right reasons: it will inform our human resource planning, attraction, recruitment and retention strategies, as well as help us better reflect the students and communities we serve," Figueiredo said.
"If students see themselves reflected in our staff, there are more opportunities to connect, to understand our students and to engage in meaningful learning that is relevant to the students' lived experiences."
The census is open during the month of April for all HWDSB staff to complete. Staff have been informed of the census through emails, the staff portal, meetings, flyers and other methods. Staff with questions are invited to email census@hwdsb.on.ca.
– 30 –
Media Contact:
Shawn McKillop, APR
Manager, Communications and Community Engagement
T: 905.527.5092 x2941, C: 905.515.6227, smckillo@hwdsb.on.ca
Updated on Friday, September 24, 2021.