HWDSB invites students, families, community to shape our Safe Schools Action Plan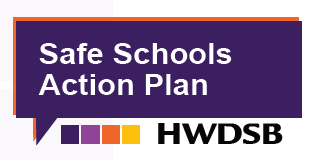 In our shared journey to build a culture without bullying, HWDSB invites students, families and community partners to join advisory groups that will shape the work within the  Safe Schools Action Plan.
The community was so generous with their time, ideas and lived experience when we asked how we can better prevent and respond to bullying. Thank you. It is now time to act, and we hope you will join us in this next step forward.
Healthy relationships between HWDSB and students, families and communities are essential if we are going to make a difference in classrooms and schools. We want to learn and work alongside students, families and community to better address bullying.
There will be three advisory groups, meeting at least once a month (virtually for now):
Student Advisory Group
Parent/Guardian/Caregiver Advisory Group
Community Advisory Group
What will the advisory groups do?
The Safe Schools Action Plan notes nine areas to address: Student Voice, School Improvement Planning, Bullying Response, Supervision – Where Bullying Happens, Character Education/Healthy Relationships, Special Education, Bullying Policy and Procedures, Data and Privacy.
We will be forming teams to respond to each of these areas. The three advisory groups will provide input to the teams supporting these areas. The recommendations on Special Education are connected to work already underway through our Specialized Services team and details on that work and approach are still to be finalized.
Our first priority is to create advisory groups to bring student, family and community voice to the planning process. Later, advisory group members may join these nine teams, or the steering committee guiding this work.
Can anyone join?
We want to hear your thoughts. If you want to support bullying prevention and can commit to at least one meeting a month, please join us.
How to join
There is no application to fill out. Please email or call us and provide the following:
Your name
Contact information (phone or email)
Advisory Group you wish to join (Student, Parent/Guardian/Caregiver, Community Partner)
Deadline: October 29, 2021
Contact Us:
SafeSchoolsAdvisory_Student@hwdsb.on.ca
SafeSchoolsAdvisory_Parent@hwdsb.on.ca
SafeSchoolsAdvisory_Community@hwdsb.on.ca
905-527-5092 ext. 2911
www.hwdsb.on.ca/safe-schools-action-plan
Updated on Tuesday, October 19, 2021.