HWDSB Student Artists Partner with AGH for Online "Myth" Gallery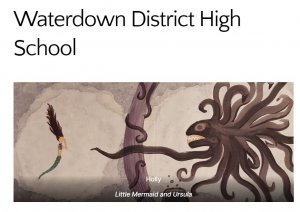 The Art Gallery of Hamilton (AGH) and Youth Arts Collective have once again partnered together to feature HWDSB student works in their Youth Community Art Gallery!
Students can submit any artistic work of their choosing to be featured in the online collection that revolves around a common theme. Paintings, digital drawings, photography, songs, sculptures, and poetry are just some of the products students have submitted for this round. The gallery began as a response to the COVID-19 pandemic, but has remained a fantastic way to display the artistic abilities of secondary school students across HWDSB.
The fall-winter 2023 gallery is now live, featuring student works centered around the theme of "Myth". Metaphysical self-portraits, popular mythical creatures, and even an amazing short story are all proudly on display!
Keep scrolling below to see features from each high school, and click here to see the Myth gallery in its entirety.
Congratulations to all the HWDSB students featured in this instalment! The exhibits are full of talent and continue to impress us all.
Updated on Wednesday, March 15, 2023.