City of Hamilton Implements New Truck Route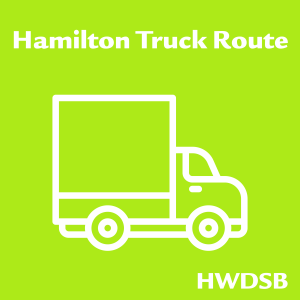 City of Hamilton has begun putting up signs outlining the new Truck Route. The announcement, which was released on March 7, 2023, outlines that trucks with more than four axles will be prohibited from travelling within the downtown area as well as other parts of the lower city. It also announces the removal of certain streets from the truck route network and modifies certain time of day restrictions.
Signage installation began the week of March 13. It is expected to take about six weeks to complete (weather permitting). Installations will occur during off-peak times to minimize the impact on traffic. Among the goals of this change are to keep trucks on suitable roadways and in turn mitigate noise and vibration, as well as increase safety for road users.
The new Truck Route map is available here so you can see where HWDSB schools are located in relation to the new route. If you are unsure of the location of your home school, our lists of elementary schools and secondary schools can help.
If you have feedback on the new route, please contact City of Hamilton's Public Works department at 905-546-2489.
The new Truck Route will be enforced by the Hamilton Police Service (HPS). Members of the community who see trucks disobeying the new by-law can report it to the HPS non-emergency line at 905-546-4925.
Updated on Wednesday, March 15, 2023.