Continuing Education 2023-24 Programs Brochure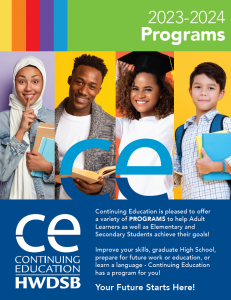 Continuing Education is kicking off the 2023-24 school year by sharing its latest Programs Brochure! It strives to respond to community needs by offering high quality and varied program options across Hamilton.
Continuing Education offers several educational programs within HWDSB and beyond. There is a wide variety of programs to help adult learners, as well as elementary and secondary students, achieve their goals. Improve your skills, graduate high school, prepare for future work or education, or learn a language – Continuing Education has a program for you!
For more information on programs and services offered by Continuing Education, check out the following links:
Updated on Wednesday, September 13, 2023.