Bullying Survey Open for Parents/Guardians/Caregivers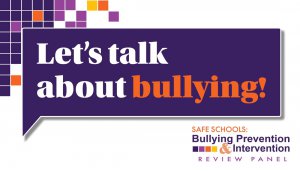 The independent Safe Schools: Bullying Prevention and Intervention Review Panel has launched an online survey to hear from parents, guardians and caregivers on the important topic of bullying.
The survey is an important development that will enhance work to make HWDSB schools safe and inviting for students and staff. This type of feedback is one way to measure the effectiveness of bullying prevention efforts.
The survey is open until Friday, November 13, 2020.
In October, 2019, the Board of Trustees passed a motion to create the panel, with a focus on bullying prevention, intervention, reporting, and responding, in order to provide independent feedback and recommendations to the Director of Education.
Two of the panel's independent advisors and experts – Dr. Tracy Vaillancourt, University of Ottawa, and Dr. Debra Pepler, York University – have developed safe schools surveys for students, parents/guardians and, soon, for HWDSB staff.
This parent/guardian/caregiver survey asks questions about child safety, bullying, relationships, and mattering (i.e., how much your child feels they matter to others). The survey also asks questions about your background like age, gender, and cultural background. Because we do not ask for your name or email address, the answers you provide will remain anonymous (private and confidential).
The Review Panel held 17 public sessions and several private sessions with HWDSB stakeholders, such as students and staff, to address bullying in HWDSB schools.
The sessions and surveys allow the Review Panel to obtain authentic and constructive recommendations from unique groups around bullying prevention, intervention, reporting, and responding. These necessary and impactful discussions and survey results will contribute to the Review Panel's final report, which will be presented to HWDSB in December, 2020.
Learn more and see the Review Panel's interim report here.
Click here to complete the Bullying Survey for Parents/Guardians/Caregivers by Friday, November 13, 2020. (Link: hwdsb.info/bullyingsurvey).
If you have questions about this survey, please reach out to Sally Landon, Manager, Research & Analytics Department, at research@hwdsb.on.ca.
Updated on Friday, September 24, 2021.