Black History Month – February 2023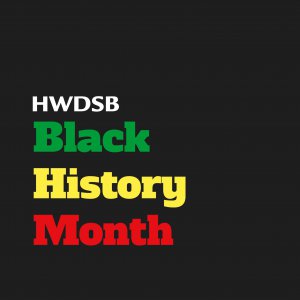 February 1 marks the start of Black History and Heritage Month in Ontario and across Canada.
In December 1995, the House of Commons officially recognized February as Black History Month in Canada following a motion introduced by the first Black Canadian woman elected to Parliament, the Honorable Jean Augustine. 
During Black History Month, many HWDSB classrooms focus on the history and accomplishments of people of African heritage. Students and staff engage in various activities to recognize Black culture and history, and explore the significant contributions of Black Canadians.
At the local level, Hamilton Black History Council has partnered with City of Hamilton to spotlight 16 Black Hamiltonians who left their marks on their communities. 
HWDSB remains committed to promoting equity and inclusion in all schools and workplaces. As we begin Black History Month 2023, Anti-Black racism still exists in learning and working spaces. Through two landmark documents, HWDSB's Anti-Black Racism Policy and Human Rights Policy, we reaffirm our responsibility to taking a proactive and systemic approach to identify and address injustices. We believe that honouring and sharing the rich cultural diversity within all communities will help lessen harmful biases and aid our understanding of each other. 
It is critical that we continually renew our commitment to addressing anti-Black racism, move beyond performative gestures and demonstrate concrete actions. To stand in true allyship and in solidarity with Black students, families, and staff requires both individual and collective work. Each of us, whether student or staff, must engage in further learning and unlearning related to Black History, Black Heritage, and Black Excellence in Canada. At the same time, the diverse experiences of Black students, staff and their families learning must be respected and included in all aspects of programming throughout the year.  
This year, Black students, staff, families, and community members are invited to visit Engage HWDSB and share what Black Joy means to them. Learn more about this Black History Month opportunity from the Director of Education's Office: 
Each February, we participate in Black History Month events and engage in learning opportunities that honour the legacy of Black Canadians. But this month is more than recognizing the accomplishments of the past; it's also about recognizing the talents and brilliance of today and celebrating the promise and potential of tomorrow.  
As you may have seen, throughout December and January, I asked the HWDSB community to join me on this platform and share what brings them joy. This month, I invite members of the Black communities across HWDSB to share stories and experiences about what Black Joy means to you. All HWDSB students, staff, and families are also invited to share examples of Black Excellence and Brilliance in our schools and in the City of Hamilton. 
Click here to visit Engage HWDSB and share what Black Joy means to you. 
We will always strive to create safe environments free of Anti-Black racism that respect, promote, and protect the human rights of Black students. Each step we take forward is one step towards creating lasting systemic change for our students, staff, families, and communities so that Black Excellence and Brilliance is continually recognized and honoured. 
Thank you for helping to celebrate Black History at HWDSB! 
Sincerely,   
Sheryl Robinson Petrazzini                   Paul Denomme  
Director of Education                             Superintendent, Equity and Safe Schools 
Resources: 
Updated on Wednesday, February 01, 2023.