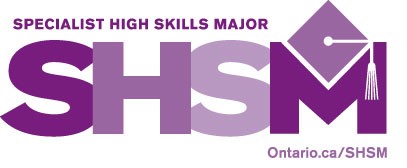 For more information, contact Lynn Krusto at 905.527.5092 ext. 2638 or email lkrusto@hwdsb.on.ca
A Specialist High Skills Major (SHSM) allows you to customize high school to fit with your career interests.
Choose from any of the seven sectors offered as an SHSM so you can get started on the path to your future career.
Plan now for credits offered in Grade 11 and 12
Get your certification/training
Gain work experience and co-op
Receive a special diploma seal when you graduate
A pathway is a combination of courses that lead to graduation and to your post-secondary destination, whether it's apprenticeship, college, university or the workplace.
Finding your pathway and planning your future takes time. What interests you? What career would you like to have in your future? Is an SHSM offered in the field you want to be in?
What Does an SHSM Pathway Look Like?
A bundle of eight to 10 Grade 11 and Grade 12 credits that include:

Four major credits that provide sector-specific knowledge and skills
Two to four other required credits (for example, English and Math), which will incorporate learning done in your career field of choice

Two co-op credits that provide real workplace experience, enabling you to refine, extend, and practice sector-specific knowledge and skills
You can experience a range of customized learning opportunities in an area that interests you
You have an opportunity to explore, identify, and refine your career goals and make informed decisions related to post-secondary education or training and next steps towards a career
You gain confidence in your ability to succeed, and see the connections between your studies, the world beyond high school, and your future careers
You acquire essential skills and work habits that are required in your chosen career focus
You have evidence of your achievements including sector-recognized certifications and training programs
You establish relationships and networks in your chosen field
…An SHSM will give you an edge on your career as you embrace your future!
For a full list of SHSMs we offer, visit our MyPath, MyWay page.
Updated on Thursday, September 15, 2016.