Summer Co-Op Information Session for Secondary Students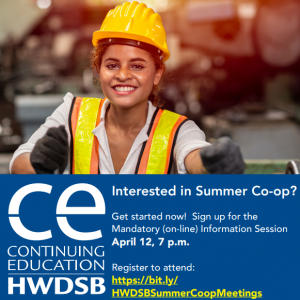 Continuing Education and our HWDSB partners are thrilled to announce that Summer Co-op will be offered in 2022.
The Summer Co-op program allows current secondary and adult students to earn one or two Co-op credits during the summer.
Students can get started by registering for our Mandatory Information Session. This online session will be held on Microsoft Teams on April 12, 2022 at 7 p.m.
Updated on Tuesday, March 08, 2022.