Pink Shirt Day is Wednesday, Feb. 23, 2022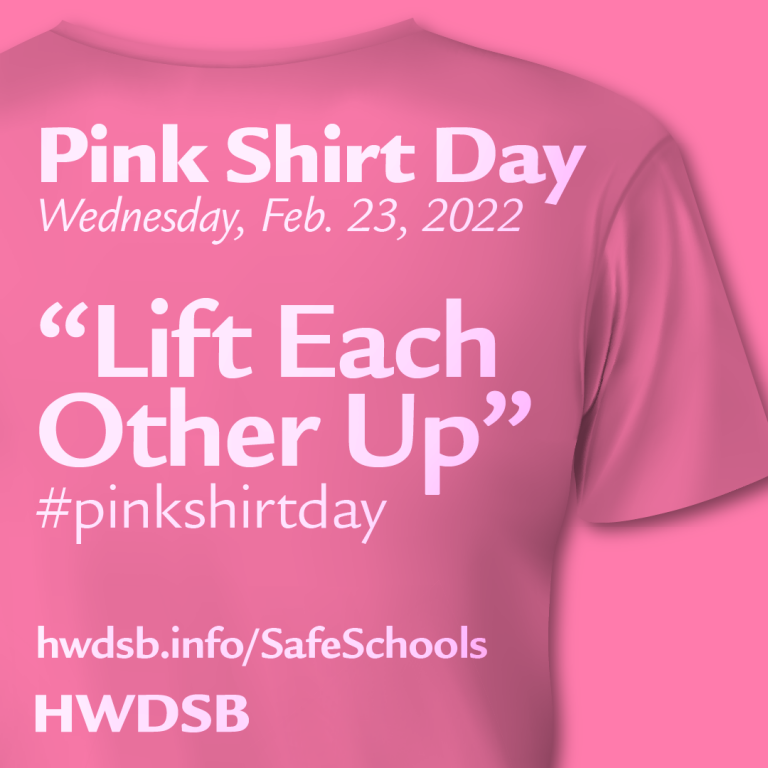 Dear students and families,
On Wednesday, February 23, 2022, we encourage all HWDSB students and staff to wear a pink shirt in honour of Pink Shirt Day, a day to raise awareness and stand up against bullying.
Pink Shirt (or Anti-Bullying) Day is recognized annually in communities across Canada as schools and workplaces come together by wearing pink shirts to show they are against bullying.
The day was started in Nova Scotia in 2007, when two Grade 12 students saw a Grade 9 student being bullied for wearing a pink shirt on the first day of school. They older students bought 50 pink shirts, encouraged peers to wear pink to school, and stood in solidarity with the Grade 9 student.
This year, HWDSB will ground itself in the theme for Pink Shirt Day 2022: "Lift Each Other Up." In our diverse world, we want to lift each other up so we can each embrace our unique cultures, identities and selves in open and direct ways.
We will also be putting a focus on cyberbullying this month and into March, through learning for administrators and supports for classroom educators. It is not surprising in today's connected world that technology is used to ​spread different forms of racism and homophobia, to threaten, harass, embarrass, socially exclude, ​and/or damage reputations and friendships. This must stop.
As a Board, we believe in creating and maintaining a positive culture to support well-being for everyone. We know that some communities face bullying at higher rates than others, namely those who are members of Indigenous, racialized or 2SLGBTQIA+ communities. This must stop.
You may notice that we recognize Pink Shirt Day in February and International Day of Pink in April. The days have similar origins but are distinct: Pink Shirt Day has a general anti-bullying focus, while International Day of Pink focuses specifically on homophobic and transphobic bullying.
Thank you for considering wearing pink on Wednesday and for ​promoting an environment ​where demonstrating being a responsible part of our learning community involves fostering allyship and inclusion, making them the norm. Please share your participation on social media using the hashtags #pinkshirtday and tagging @HWDSB_Climate.
What can we do to participate in Pink Shirt Day?
Proudly wear a pink shirt
Start a conversation about ​safety, allyship, citizenship and inclusion
Design your own pink shirt logo or slogan
Create an anti-bullying school banner for all students and staff to sign
Practice ​coordinated and intentional acts of inclusion all day long
Name and intentionally witness alliances and purposeful acts of systems for equity
Visit pinkshirtday.ca to learn more
You can also learn more online about HWDSB's bullying prevention and intervention resources  for students and families and the Safe Schools Action Plan guiding our anti-bullying work.
Together, we will make a difference.
Sincerely,
Sharon Stephanian
Superintendent on Special Assignment, Safe Schools Action Plan, and Student Well-Being 
Resources for Families:
Updated on Friday, February 18, 2022.