HWDSB Schools Take Home Prizes in #eatABeet Contest for Food4Kids Hamilton
On January 28, 2022, the Hamilton Professional Fire Fighters Association (HPFFA) – Local 288, launched the #eatAbeet social media challenge to help raise funds and awareness for Food4Kids Hamilton (and to "beet" childhood hunger in Hamilton).
The #eatAbeet campaign, sponsored by Tandia Financial Credit Union, challenged community members to eat any form of beet, post a video or photo to social media, donate $25 (or whatever they could) to Food4Kids Hamilton, and challenge other people in the community. As of February 21, the campaign came to a close, having raised over $42,000!
In addition to the #eatAbeet challenge fundraiser, the HPFFA Local 288 hosted a special Hamilton school contest in which submissions were entered to win $6,000 in prizes for classrooms, programs, teams, clubs, etc. Over 30 entries were posted and since schools did such an amazing job, HPFFA increased the prizes to $8,000! HWDSB winners include:
2ndPlace for $2,000 – Franklin Road Elementary School
3rdPlace (tie) $1,000 each – Spring Valley Elementary School
Honourary Mentions (tie) $500 each – Guy B. Brown Elementary School
Congratulations to our three winning elementary schools! You can view their entries on the Food4Kids Hamilton #eatAbeet website. We also encourage you to take a look at some media below, as winners were recently surprised with the exciting news.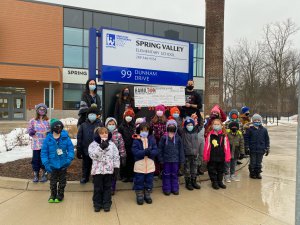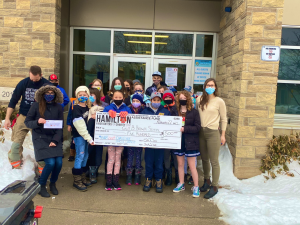 The HPFFA was proud today to award 6 #HamOnt schools $8000 for participation in the #eatAbeet Challenge School Contest for @Food4KidsHamOnt
While there were only 6 winners, all submissions were BEETastic & are Helping Us to BEET Childhood Hunger!@TandiaTweets @HWDSB @HWCDSB pic.twitter.com/AsBAnU31ui

— Hamilton Firefighters 🇨🇦 (@hamiltonfire288) February 23, 2022
HWDSB would also like to thank all the students, staff, classrooms, schools, and community members who participated in the #eatAbeet social media challenge or school contest! Funds raised will help many Hamilton students.
The Food4Kids Hamilton program operates within 54 HWDSB schools, and with the help of school staff, students are referred for enrolment in the program. Through a team of volunteers, Food4Kids Hamilton packs individual food bags every week and delivers directly to schools before each weekend. Visit food4kidshamilton.ca to learn more about all the good Food4Kids does for youth in Hamilton.
Updated on Wednesday, February 23, 2022.