Westdale Student Marks Canada's 150th with Generosity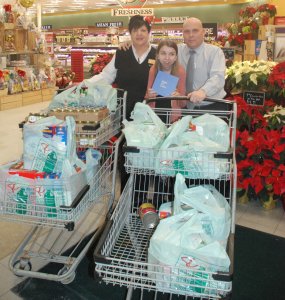 Celebrating Canada's birthday, the RBC branch at Locke and Main has selected a Grade 12 Westdale student to be their youth ambassador to make a difference.
Teah Clarke-Davies is among the young Canadians that RBC has given $150, and asked to do something great with it – no strings attached. The hashtag for the campaign is #make150count.
After learning about hunger and food insecurity in her World Issues class, Teah has decided to contribute her $150 to Westdale's annual food drive. Jason Zelinski, owner of the Fortinos at Upper James and Rymal, matched her donation.
That meant Teah could purchase more than 200 food items to contribute to the Dynamics of Human Relationships' annual food drive. She's a great example of someone paying it forward, and teacher Doris Forrester said she has made Westdale proud.
Updated on Thursday, December 22, 2016.