Volunteers are worth celebrating!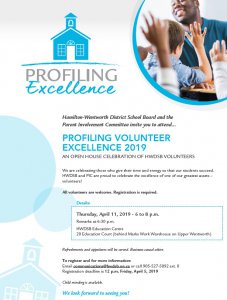 HWDSB and the Parent Involvement Committee (PIC) are celebrating those who give their time and energy so that our students succeed.
All HWDSB volunteers are welcome to attend Profiling Excellence 2019 – an open house celebration of those who make a difference for students!
See the flyer below for details on this event being held on Thursday, April 11 at the HWDSB Education Centre.
Profiling Excellence Volunteer 2019 Invite
Updated on Tuesday, March 26, 2019.