Showcase of heARTS Silent Auction Now Open
The Showcase of heARTS 2023 Silent Auction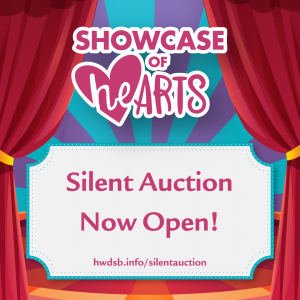 is now open!
Hosted by Hamilton Foundation for Student Success (HFSS), Showcase of heARTS displays student talent in all shapes in forms while raising funds for HWDSB students. Bids from the Silent Auction will directly benefit HWDSB students by helping fund Student Support Grants, which provide financial assistance to students for school-related expenses and basic personal needs.
The Silent Auction features a variety of exciting prizes from WestJet flight tickets, free rounds of Golf at Flamborough Hills Golf and Country Club, Treetop Trekking experiences and so much more. If you're a sports fan, the Hamilton Tiger-Cats and Toronto Rock experiences are calling your name!
Visit the Silent Auction website to bid on prizes before it's too late! The Auction closes on Thursday, March 30 at 9 p.m. Tickets to Showcase of heARTS are not required to bid on Silent Auction items.
Are you interested in watching the best singers, dancers, artists and musicians across HWDSB? Showcase of heARTS tickets are still available! HFSS has created ticket options that allow guests to participate either in-person or virtually from their own location. Click here to purchase tickets.
….and so much more!
Updated on Tuesday, March 28, 2023.