Separation Anxiety Session for Caregivers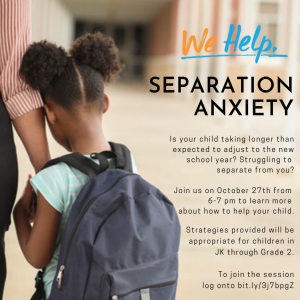 Is your child taking longer than expected to adjust to the new school year? Struggling to separate from you?
Join us on Wednesday, October 27, 2021 from 6 – 7 p.m. to learn more about how to help your child.
Strategies provided will be appropriate for children in JK through Grade 2.
To join the session, log onto bit.ly/3j7bpgZ
Updated on Tuesday, October 19, 2021.