School buses adopt Eight Lamp Amber-Red Warning System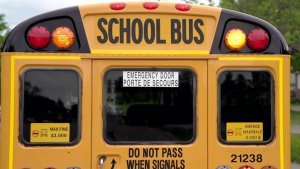 As of July 1, 2022, new safety upgrades for Ontario school buses come into effect.
New legislative and regulatory requirements require that all school buses manufactured on or after January 1, 2005 be equipped with four overhead amber signal lights and four overhead red signal lights. The current system in place in Ontario uses red lights only.
The Eight Lamp Amber-Red warning system uses two stages of flashing overhead signal-lights to signal that a school bus is slowing (amber lights) and stopping (red lights). The amber and red lights will make it easier for drivers and other road users to know when school buses are slowing and stopping.
School buses are also required to display revised signage on their back door reading, "do not pass when red lights flashing."
The retrofits are designed as reminders to motorists to slow down, prepare to stop, and watch out for students getting on and off the bus.
School bus operators have until September 2022 to become compliant. Hamilton-area school buses will be retrofitted over the summer to ensure compliance.
Motorists are advised that some vehicles equipped with the new Eight Lamp Amber-Red warning system will be on Hamilton-area roads in July and August, servicing summer school transportation needs.
Learn more:
Ontario's Regulatory Register: Eight Lamp Amber-Red Warning System for School Buses
Bill 246, Safer School Buses Act, 2021
Updated on Tuesday, July 05, 2022.