Register for Summer Skill Builder and Reach Ahead Programs Before May 31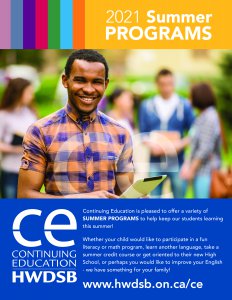 Continuing Education Summer Skill Builder (non-credit) programs and the credit Reach Ahead program (for students entering Grade 9 this fall) are now open for registration – do not miss out!  Registration will close May 31, 2021.
Please visit our program pages to learn more about the programs and to register!
Summer Skill Builder Programs – Information and registration 
Reach Ahead Program – Information and registration
Flyer: CE – 2021 Summer Programs Brochure
Updated on Saturday, May 08, 2021.