Register for Online Summer School with HWDSB Before June 30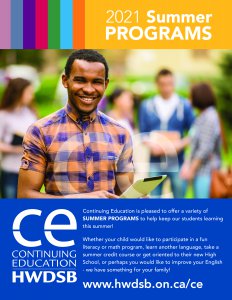 Continuing Education is pleased to share that registration is now available for our 2021 Online Summer School Program.
Students currently attending secondary school and adults are eligible to participate in our online summer school credit program.  Please visit our Summer School page for more information and to register now!  Registration closes at 2 p.m. on June 30.
HWDSB Online Summer School: Information and registration
Flyer: CE – 2021 Summer Programs Brochure
Do you have a Grade 8 student who would like to earn a credit before starting high school this fall? Check out our "Reach Ahead" summer program!
Updated on Saturday, May 08, 2021.