Project SEARCH Virtual Information Night is June 6, 2022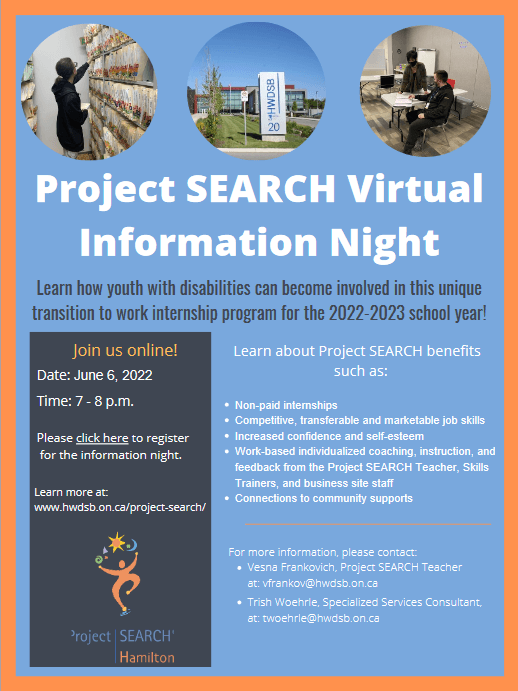 We invite everyone interested to learn how youth with disabilities can become involved in this unique transition to work internship program for the 2022-2023 school year!
Learn about Project SEARCH benefits such as:
Non-paid internships
Competitive, transferable and marketable job skills
Increased confidence and self-esteem
Work-based individualized coaching, instruction, and feedback from the Project SEARCH Teacher, Skills Trainers, and business site staff
Connections to community supports
Project SEARCH Virtual Information Night
Join us online!
Date: June 6, 2022, from 7 to 8 p.m.
Please click here to register for the information night.
Learn more at: www.hwdsb.on.ca/project-search/
For more information, please contact:
Vesna Frankovich, Project SEARCH Teacher, vfrankov@hwdsb.on.ca
Trish Woehrle, Specialized Services Consultant, twoehrle@hwdsb.on.ca
Updated on Monday, May 30, 2022.