Parents wanted for active school travel committee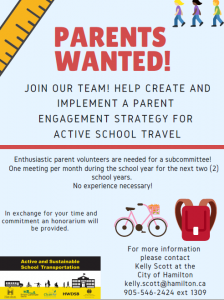 A collaborative body working for active and sustainable school travel is seeking enthusiastic parent volunteers to help create and implement a parent engagement strategy on the topic.
Volunteers on the subcommittee for Active and Sustainable School Transportation (ASST) will receive an honorarium for their time.
For more information please see the flyer below or contact Kelly Scott at the City of Hamilton via kelly.scott@hamilton.ca or 905-546-2424 ext 1309.
Updated on Monday, October 22, 2018.