Parents Reaching Out Grants Awarded to 35 HWDSB Schools
HWDSB's Parent Involvement Committee (PIC) is pleased to provide the following schools with Parents Reaching Out (PRO) grant funding.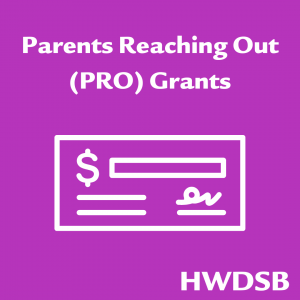 PRO grants help parents to identify barriers to parent/guardian/caregiver engagement in their own community, and find local solutions to get more parents involved. Parents who are involved in their child(ren)'s education help to support their child(ren)'s achievement and well-being.
"We are pleased to see so many school councils taking an active role in making their schools a better place for students, staff and families," said PIC Chair Mike Palma. "We look forward to continuing to provide accessible, forward-thinking spaces where families play a large role in their child(ren)'s learning."
The Ministry of Education provides each school board with funding, which PIC can use and/or distribute to schools. Each school can apply for a maximum amount of $1,000.
School councils submitted their applications to the PIC and approved projects were announced to schools in the spring.
Thirty-five schools were awarded a PRO grant. Each school community will lead these projects to support parent engagement.  Each project was required to meet one of the following objectives:
Addressing social inclusion and racism, specifically anti-Asian, anti-Black and anti-Indigenous racism and other prejudices toward racialized and marginalized groups
Creating a safe and welcoming environment
Demonstrating respect for parents as valued partners within the education system regarding decisions about their child(ren)'s education
Enhancing communications with teachers
Informing parents about the expectations of the Ontario Curriculum and supporting resources
List of School Projects
Congratulations to the following schools for their projects:
Allan A. Greenleaf: Presenter
Ancaster Meadow: Family Fun Math Night
Balaclava: Parent Curriculum Night
Billy Green: Social Media Speaker
Cathy Wever: Building Connections
Cecil B. Stirling: Family Literacy Night
Central: Communications Hub
Cootes Paradise: Happy Parents Happy Kids – Ann Douglas Presentation
Dundana: Indigenous plan night
Dundas Valley Secondary School: Presentation from Woodland Cultural Centre
Earl Kitchener: MCYU
George L. Armstrong/Norwood Park: Trans Speaker/Activist Chris Farias
Greensville: Dr. Kayla Baird
Highview: Mad Science
James MacDonald: Art and Wellness
Kanétskare: Spring Open House
Lawfield: Open House
Lincoln Alexander: Math/Literacy Nights
Lisgar: Presentation from Scott Graham re: Anti-Bullying
Millgrove: Dr. Deanne Behnke-Cook – Speaker
Michaëlle Jean: Creating a welcome and supportive community
Mount Hope: Building Parent Engagement
Mountview/Chedoke/Holbrook: Part Activity Nights
Parkdale: 75th Anniversary Party
Pauline Johnson: Book Night
Queensdale: Family Wellness
RA Riddell: Fitness Night
South Meadow: BRAVE Education
Tiffany Hills: At Home Reading Program
Viola Desmond: Family Literacy and Math
Westmount: Family Wellness
Westwood: Movement and Nutrition
WH Ballard: Online Safety
Waterdown District: What's Your Path – Career
Westmount: Family Wellness 50-75 parents
Updated on Wednesday, March 22, 2023.