Parents Reaching Out Grants Awarded to 29 HWDSB Schools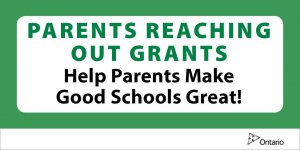 HWDSB's Parent Involvement Committee (PIC) is pleased to provide the following schools with Parents Reaching Out (PRO) grant funding.
PRO grants help parents to identify barriers to parents/guardian/caregiver engagement in their own community, and find local solutions to get more parents involved. Parents who are involved in their children's education help to support their children's achievement and well-being.
The Ministry of Education provides each school board with funding, which PIC can use and/or distribute to schools.  Each school can apply for a maximum amount of $1,000.
School Councils submitted their applications to the PIC and approved projects were announced to schools in the spring.
29 schools were awarded a PRO grant. Each school community will lead these projects to support parent engagement. Each project was required to meet a minimum of one of the following objectives:
Addressing social inclusion and racism specifically anti-Asian, anti-Black, and anti-Indigenous racism and other prejudices toward racialized and marginalized groups
Creating a safe and welcoming environment
Demonstrating respect for parents as valued partners within the education system regarding decisions about their child's education
Enhancing communication with teachers
Informing parents about the expectations of the Ontario Curriculum and supporting resources
Congratulations to the following schools for their projects:
Allen A. Greenleaf: Parent Engagement Handbook
Ancaster Meadows: Building Inclusion
Billy Green: Multi-language Home Reading Program
Cathy Wever: Supporting Health and Wellness activities
Cecil B. Stirling: Family Activity Night
Central: Family engagement (Online event, panel expert, guest speaker series)
Collegiate: Digital Well Being
Dundas Valley: Woodland Cultural Centre (virtual)
Earl Kitchener: Parent Support Library
Frank Panabaker: Brave Education Virtual Session
Gatestone: Support Children's Well being
George Armstrong: Virtual screening of Blood and Water: a Story of Reclamation (Indigenous filmmaker Layla Black's 22 minute film)
Huntington Park: Learning Commons Book Inventory
James MacDonald: Literacy Night (virtual)
Lawfield: Virtual Speaker
Mary Hopkins: Literacy resources to help parent help their kids
Parkdale: Family Literacy night (virtual)
Ray Lewis: Social Networking
Ryerson Middle School: Telling Tales Virtual Event (Indigenous author and online presentation)
South Meadow: Pick A Path (school safety)
Sherwood: It Takes a Village (Community event)
Strathcona: Public Speaker (Melissa Punambolam)
Tiffany Hills: Multi-language Home Reading Program
Viola Desmond: Grand Opening
Viscount: Cookies and Canvas (Paint night for parents and students)
W.H. Ballard: Author Visit
Westdale: Self Regulation for Parents
Westmount: Westmount Equity, inclusion and well being
Westwood: Multi-language Home Reading
Updated on Thursday, May 12, 2022.