Parent Involvement Committee Receiving Applications For 2022-23 School Year
The Parent Involvement Committee (PIC) is currently receiving applications for the 2022-23 school year. The application deadline is June 17, 2022 at 11:59 p.m. PIC acts as an advisory body to Hamilton-Wentworth District School Board (HWDSB) and provides an important link between parents, School Councils, the Board's Trustees, and Director of Education.
As a PIC member, parents have an opportunity to become part of a dedicated team committed to helping every student achieve. Please visit our Parent Involvement Committee website to learn more about this important role.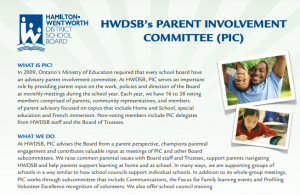 Here is the membership criteria for PIC:
Parent or guardian of a student enrolled in HWDSB
Selected to ensure broad representation and diversity across the district
Committed to a two-year term
Able to attend monthly meetings (2nd Tuesday of each month)
Demonstrated commitment to school and community involvement
A link to the application process can be found on the Parent Involvement Committee website.
A direct link to the application process can also be found here: https://ca.research.net/r/PIC2022-2023
Updated on Wednesday, May 18, 2022.