Orange Shirt Day/National Day for Truth and Reconciliation – Friday, September 30, 2022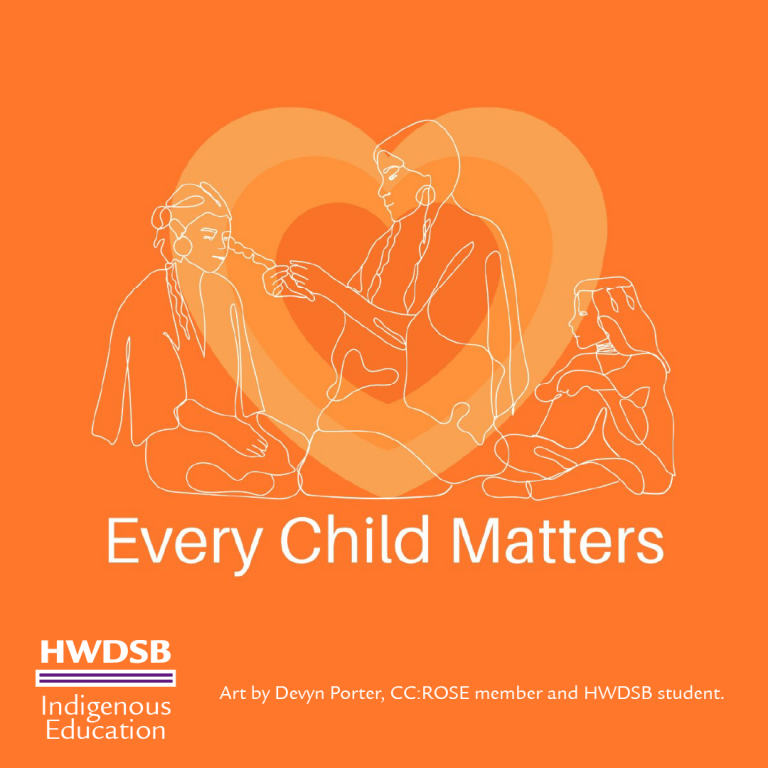 At HWDSB, we respect the longstanding relationships with the local Indigenous communities, the Mississaugas of the Credit First Nation and the Six Nations of the Grand River.
On Friday, September 30, 2022, we wear orange to honour the story of Phyllis Webstad, who in the early 1970s had her orange shirt taken away on her first day at the St. Joseph Mission (SJM) Residential School in British Columbia.
Flags across HWDSB will be flown at half-mast from sunrise to sunset on Friday, September 30, 2022, in observance of the National Day for Truth and Reconciliation.
As we learned in the May 2022 statement marking the first anniversary of the discovery of 215 unmarked graves at Kamloops Indian Residential School, the orange shirt has become "a symbol for Indigenous peoples of resistance and survival and for Canadians, an act [of] solidarity with Indigenous Peoples".
Since May 2021, the search for unmarked graves has been ongoing across North America, and more locally relevant, the search began in November 2021 at the Mohawk Institute in Brantford, Ontario. For more information, please access Recovery, Reclamation and Revitalization — Survivors' Secretariat (survivorssecretariat.ca).
We encourage you to wear orange on Friday, September 30 to honour the children whose lives were lost as well as survivors, families and communities experiencing intergenerational trauma, and as a personal commitment to engage in education, commemoration, and healing/wellness in the spirit of Truth and ReconciliACTION.
We are aware that Indigenous students, family and staff at HWDSB may be experiencing a range of individual and collective sentiments on this day. In this monumental time of reconciliation, we have a responsibility to learn, engage and participate.
Each HWDSB school will receive a bundle of Every Child Matters stickers so that students and staff can participate on September 30.
As a reminder, Orange Shirt Day now coincides with a federal statutory holiday, National Day of Truth and Reconciliation. Please see the NCTR link here for professional learning and resources.
In Hamilton, we highlight the three-day event being planned by the Hamilton Regional Indian Centre (HRIC) at Gage Park. To learn more, please see the HRIC event flyer for more details.
The HWDSB community is encouraged to think about the meaning of Truth and Reconciliation and how we are implicated in enacting meaningful change.
Sue Dunlop, Associate Director, Learning Services
Sheryl Robinson Petrazzini, Director of Education
Resources
Updated on Tuesday, September 27, 2022.